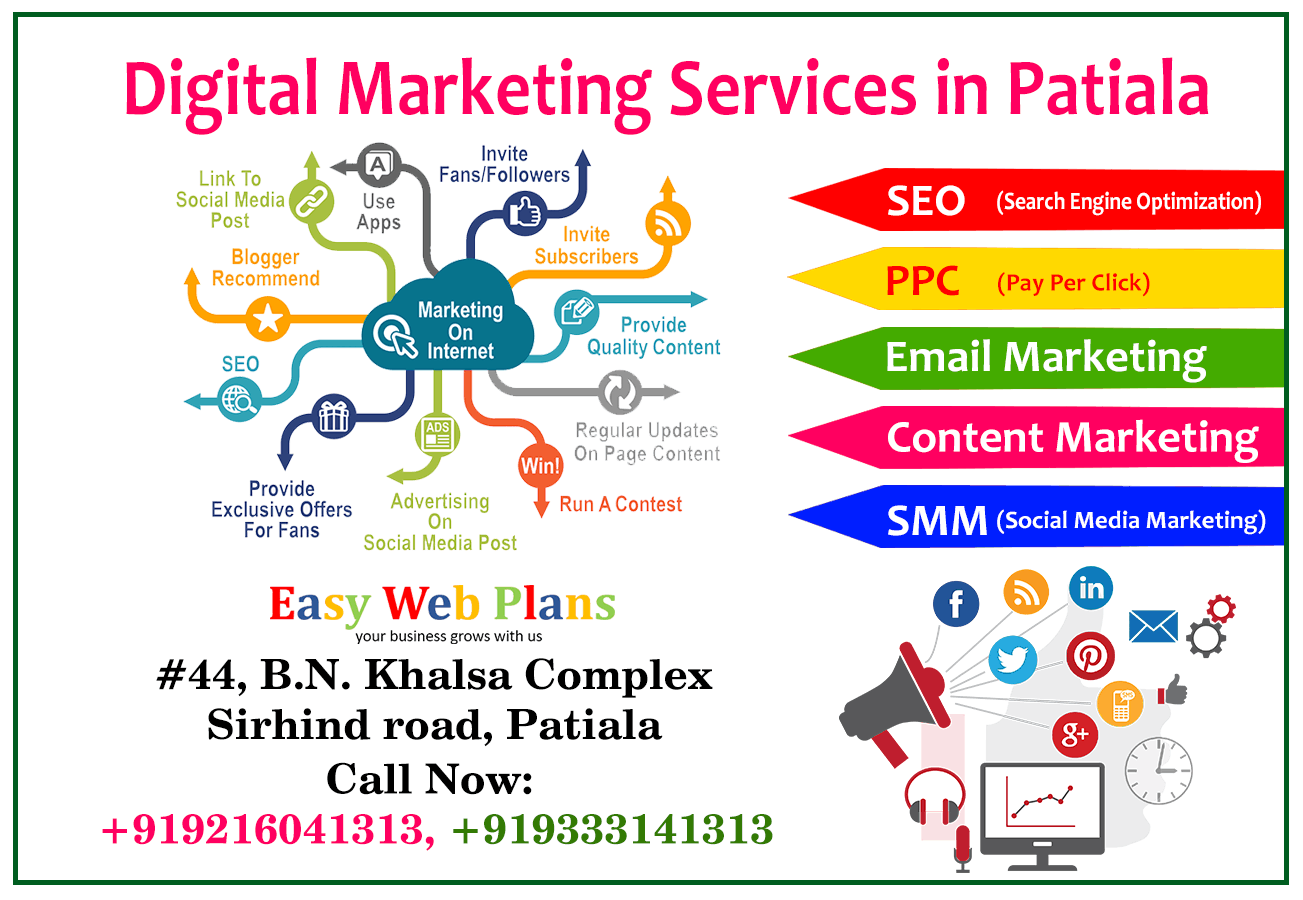 Digital Marketing Services in Patiala-Digital marketing is also known as Online Marketing. It is the key business tool for enterprises today. It enables them to harness the power of the web to promote their business to the next level. Founded in 2010. Easy Web Plans is a full-service digital marketing agency located in Patiala, Punjab. Since inception, we have become one of the best providers of Digital Marketing and SEO Services in Punjab. We have built a team of marketing professionals in a number of digitally focused areas such as SEO, PPC, Social and more.
What Sets Easy Web Plans Apart?
Easy Web Plans learned only on what it takes to be a successful digital marketing services company by giving our clients the level of service and support they expect. Continually evolving, our 8+ years of experience have allowed us to provide the best quality of digital marketing services in Patiala in all channels of marketing. However, one of the many ways we set ourselves apart from other agencies is complete transparency. At Easy Web Plans, we are a leading Digital marketing agency in Patiala. It offers a comprehensive range of services to help your business grow. We help you overcome the challenges and solve problems related to increasing your online reach. Moreover, we have a team of expert digital marketing experts to help you with a full online marketing strategy.
Furthermore, Easy Web Plans offer a complete range of digital marketing services. We always ensure that your business website reaches the top and is able to stay there despite the competition in the market. From SEO to PPC, content marketing, ORM and more we excel in every aspect of online marketing. We create a perfect mix of these strategies to bring a result-oriented digital plan to your business.
Benefits of Availing Easy Web Plans-Digital Marketing Services in Patiala for your Business-
Digital marketing is undeniably the lifeline of business today. Although, it is hard to imagine growing without having an online presence. Therefore, if you want to achieve your business targets as well as survive in the competitive scenarios, these services are must-have.
Be in Touch with Customers-The The best way to increase your customers is to explore the internet. It is the gold mine for business today. By promoting your business online, you can be in constant touch with the ever-increasing customer base out there.
Target the right leads-Adaption of digital marketing fetches a powerful tracking and analytics tool for your business. These allow you to identify and target the right leads which are most likely to be converted into your loyal customers.
Avail the benefit of Omnichannel Reach-The touchpoint of digital marketing strategies are many as it makes your business accessible across various channels. It means that you can interact with your customers in many different and effective ways.
Analyze your growth and Business–Digital Marketing not only helps your business grow but also allows you to analyze its growth and business over a period of time. However, these metrics are helpful for formulating strategies and plans for the future.
Why Choose us as your online marketing service provider-
We at Easy Web Plans, bring a complete package of digital marketing solutions to help your business extend its reach on a global scale. However, there is more than one reason why you should choose us as your digital partner. Furthermore Patiala, we provide digital marketing services in Ludhiana, Rajpura, Jalandhar, Nabha and Ambala.
End to end solutions-Easy Web Plans is a one-stop destination as we cover all dimensions of online marketing services from SEO to PPC and more.
Client-Centric Perspective-We follows a client-centric perspective and creates customized solutions that match their requirement to perfection. We understand their needs and available round the clock for communication.
The unmatched experience-Our unmatched experience of more than a decade makes us a pioneer digital marketing company in Patiala. However, we have an impressive list of satisfied clients in India and across the globe.
A dedicated team of experts-At Easy Web Plans. We have a dedicated team of certified and expert digital marketers who have expertise in various aspects of digital strategies. However, their proven expertise comes with certifications in Google AdWords, Analytics and more.
Progressive Approach-We have a progressive approach.  We always endeavor to follow the changing trends and make them a part of our digital strategies. We make sure that your business avails maximum traffic and revenues with these services.
Process for Success-In addition, our expert marketers follow a process that is tailor-made for growth and success. We begin with developing a strategy that guarantees online success, works to bring more traffic to your website and drives the leads to conversion.
Hence, Contact Easy Web Plans for Digital Marketing Services in Patiala by dialing + 91 9216041313 and take your business to the next level of success.