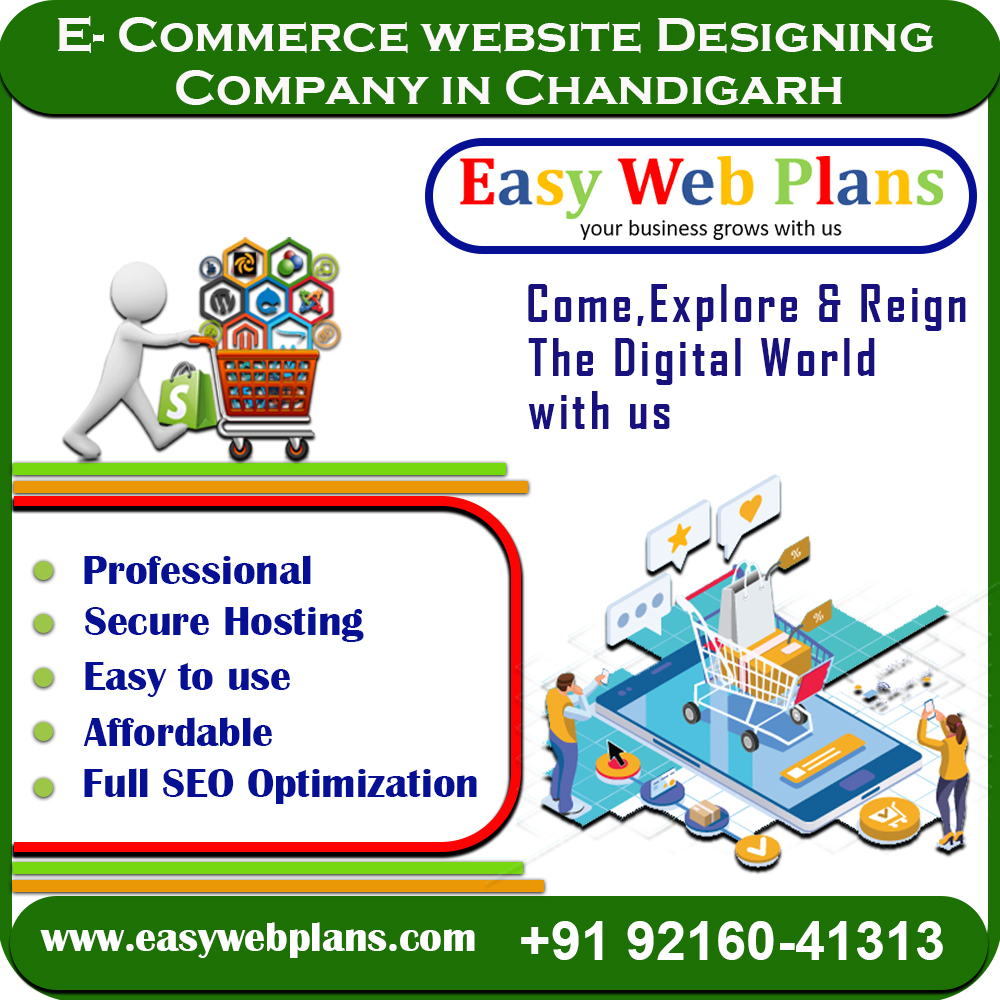 Ecommerce Website Design in Chandigarh – Easy Web Plans is the peak Ecommerce Website Design in Chandigarh. The charm of the organisation lies in its extremely well-equipped resources. Reigning as a leader in diverse digital tools like PPC, SEO, SMM, SEM and email marketing for many years have entitled Easy Web Plans to be the Ecommerce Development Company in Chandigarh.
The top Ecommerce Website Design in Chandigarh
Easy Web Plans is the brainchild of Mr Amrinder Singh, a Masters holder in Computer IT. 12 years of polished digital skills have made him an expert in tools like Product User Experience (UX), Digital Growth Hacking, PPC AdWords Expert and Conversion Rate Optimisation Expertise. Being conceived of by such an efficient businessman, the working principles of the company is aimed at taking customer satisfaction to lucrative heights. Easy Web Plans Ecommerce Website Development in Chandigarh is marked by the essence of expert professionals at work, thus contributing to the best of service.
What do we do?
Major E-Commerce Website in Chandigarh has been glorified by the intricate work of our veteran professionals dominating the field of work for years. We try to design our Ecommerce page keeping in mind the features that could surely impress the visitors. We design your parallel online store to operate for 24/7. Thus, it has massive potential to enhance the sales figure. We precisely cater to all kinds of clients ranging from individuals to big house corporate. Being budget-friendly is another feature to our hat that we majorly endorse.
Our services
Easy Web Plans Website Designing services in Chandigarh has massive popularity. Owing to our well planned and systematic service extension, Ecommerce Website Design in Chandigarh has tasted new realms of online world like never before.
We extend the following services.
Customised development of design: We believe that all our designs must be unique. The experts take care of the uniqueness factor via paying importance to input the customised designs with respect to the company's essential features.
SEO services: We make your e-commerce website keeping in mind the features demanded by the search engines. Thus making your online store hand top in an online search forms our basic SEO operation.
Involvement of many payment gateways: We want to make every customer comfortable while making payments. Thus, we incorporate varied payment like ccavenue payumoney and PayPal. These facilitate easy, smooth and secured payment option for the clients.
Social media promotion: Our promotion team expertly advertise your eCommerce site. Thus capturing a wide pool of potential customers is no more a difficult task.
Lining user-friendly admin panel: We understand the essential need of you being a complete manager of your online store. Thus our technical team makes it a point to incorporate a user-friendly admin panel.
Budget-friendly output: We aim to assist all enthusiastic business. Further our kitty of designs is varied and thus we fit well into all kinds of budget projections.
Reasons to choose us?
At Easy Web Plans, you can get customized designed to maximize the conversion rates
Our Ecommerce website design in Chandigarh service offers custom shopping cart development and Database design and integrated web development services at very low cost
You can also get secured Payment gateway integration and support for more languages
Our well planned and managed SEO friendly features make your users engaged with your brands more with the integration of Google Analytics to track the performance of the store.
You can also get complete keyword optimization and customization in your design as per industry standards
How can you boost your business with us?
Partnering with us can enable you to invite good business in a massive figure. Our Ecommerce Development Services in Chandigarh lined with the above features is sure to be of great assistance.