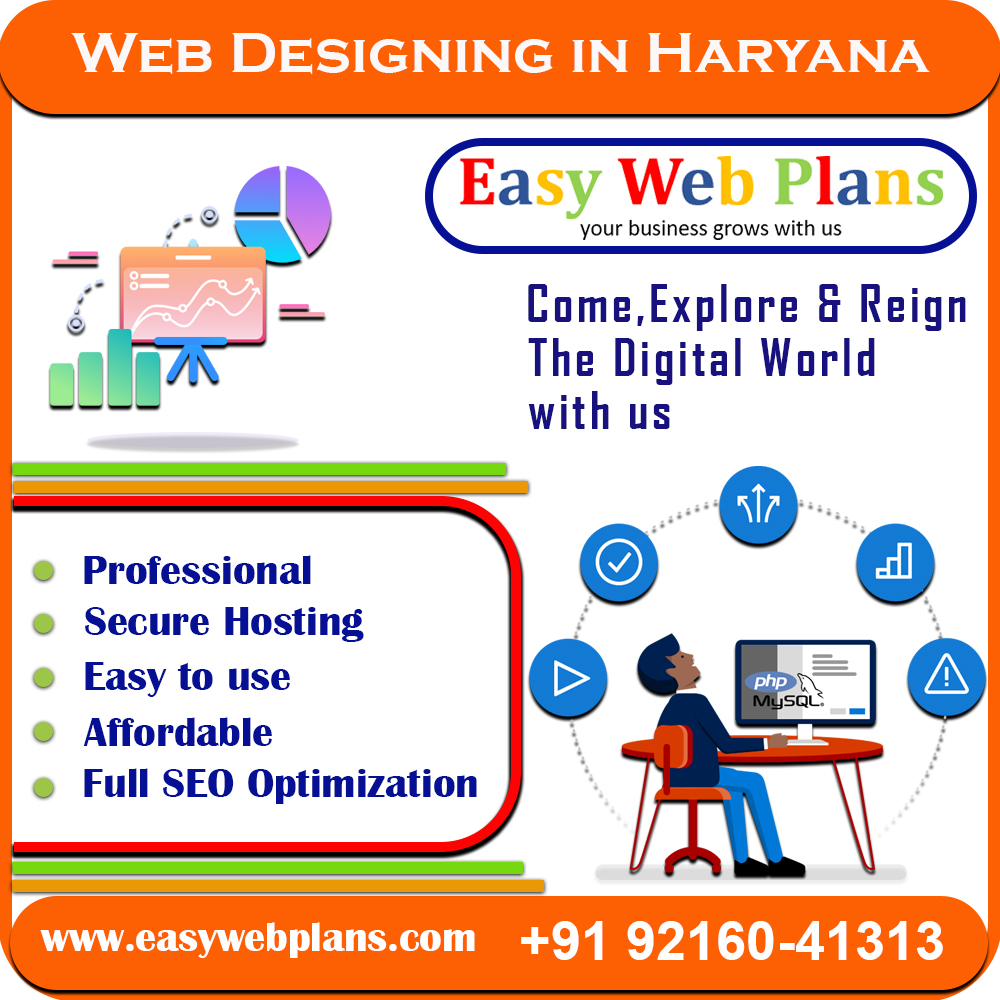 Website Designing Company in Haryana – Web Designing in an impressive way is not just a profession but also a profession for our Web Designing Company in Haryana. Creativity is what, Easy Web Plans are all about, Do what you like and let Easy Web Plans do the rest. We believe in the idea that responsive, attractive and good looking website is first impressions on visitors. However, good designing of any website is the starting point of any website. We have a special team for website designing in Haryana who has been involved in designing professional websites of all the categories. Although, Our Websites are search engine optimized and user-friendly. Connecting creating technology as well as business growth, Easy Web Plans has been recognized and awarded for our excellent and exceptional work. We work for results and awards and achievements provide us with motivation.
Because of our extensive experience in this area, Being the best Web Designing Company in Haryana know exactly what makes a website work and will ensure that your website meets your expectations. Through a simple process, our Website Designing Company in Haryana will work with you through the development stage, ensuring you get exactly what you want out of your website. Easy Web Plans also provide web designing services in Patiala, Punjab, and Chandigarh.
Why did people choose us as a Web Design Company in Haryana?
Successfully designed 3000+ websites
Web 2.0 based designing as well as the development
All websites are W3C Validated
Fast loading and responsive websites in all devices
User-friendly as well as simple navigation
Clean coding and SEO semantic
Professional appealing and relevant websites
Separate quality department
If your Websites requirements are bigger, please discuss with us and we promise you the best deal
Become a part of our family speak to a specialist by dialing +91 9216041313
Easy Web Plans – Web Designing Company in Haryana-
As a web design company in Haryana, we offer complete web design solutions, where our clients benefit to have all reciprocal solutions under a single umbrella. Our Website Designing in Haryana company is capable of providing high quality, cost-effective web designing and development solutions to the customers. We are a team of professional website design company in Haryana who not only creates the design which interacts the customer but also helps the client to choose and promote their website as per their business profession. Easy Web Plans offers a wide array of services such as professional website design, website maintenance, web hosting, graphic designing, e-commerce web development, mobile app development, digital marketing, and further small business services such as banner and logo design.
Web Design in Haryana service includes-
HTML Coding and java scripting
Designing flash intros and animation
Graphic Designing
Product Photography
Website content planning as well as drafting
Solution Designing
Creative Story Boarding
Our Passion is Web Design-
We are the top and reliable Web Designing Company in Haryana providing quality web designing services in Haryana. Therefore, our web design in Haryana experts ensures each quality parameter. Such as easy navigation, overall flexibility and content quality within the period and budget. In addition, to design a static website in a simple manner compares with dynamic website as the quality is quite simple. In general static websites are developed using HTML coding. One side web design binds the layout of your website and other side web development holds all your web applications together. Therefore, your website can offer you the best return for your stake, if done perfectly. We always ensure that our clients are captivated with our web designing services in Haryana and return to us again and again.
Factors make us the best Website Designing Company in Haryana compare to others-
Websites we make are optimized
Our Agile Methodology of development is proven as well as effective
Strong focus on business requirements and ROI
No compromise on the quality of a website
We are quick to respond to the client's needs
Delivering services as well as solutions right for your business
No worrying as we have experts in our web design company in Haryana
Our Team in Web Designing in Haryana are experiencing holders
We believe only responsive websites that will adapt automatically as per the screen size
Extensive project management experience
Contact us at +91 9216041313 for responsive and attractive  service for Web Designing in Haryana or all over India
Easy Web Plans is one of the front-runners in website designing company in Haryana. As a website design company, we ensure the best possible strategic outcome for your website designing as an initiative. As a result at present, we're catering to various high profile corporate houses based in Punjab, Haryana or other parts of India for their web design company requirements. Besides, Haryana, we have also won the confidence of top global players as strong and well perceivable web designing company in Haryana.