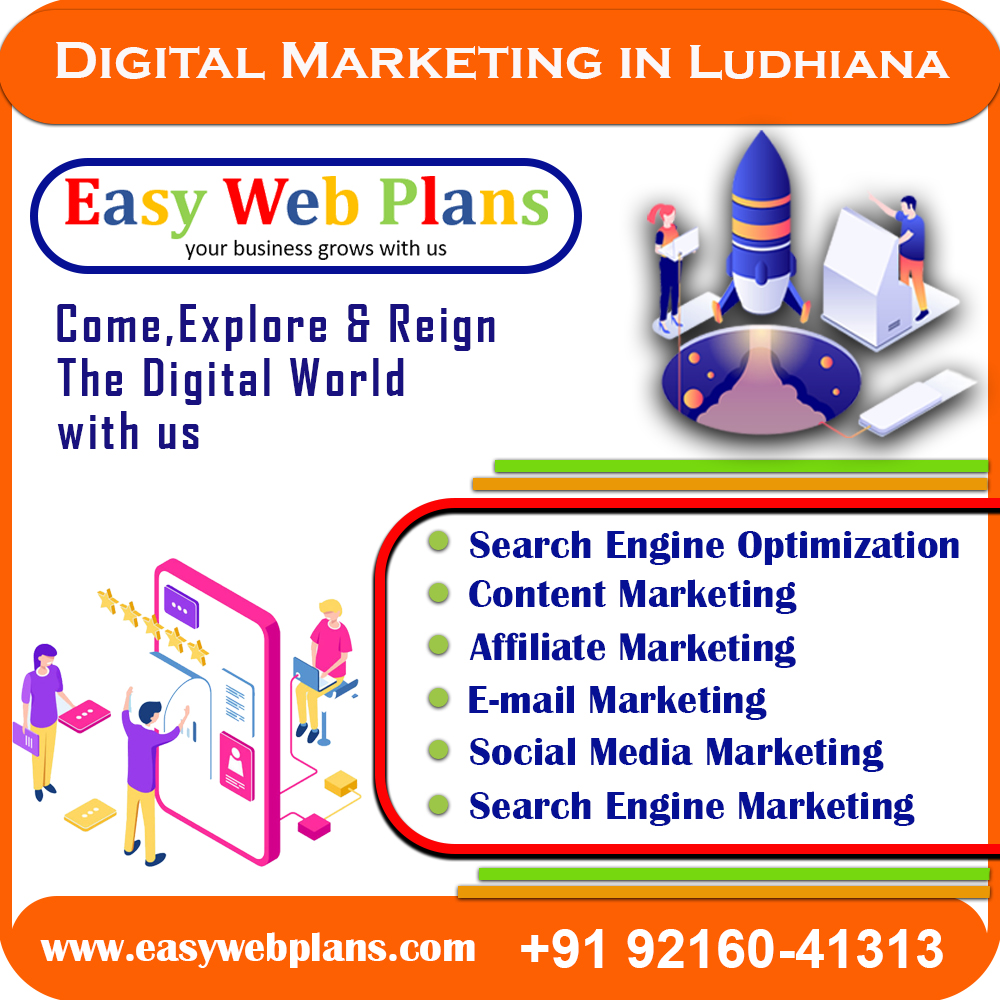 The only trusted Digital Marketing Company in Ludhiana that strongly vibrates in the world of digital marketing is the Easy Web Plans. As a matter of fact, the company is the best at carrying out SEO, PPC, SEM, SMM, and Email Marketing. As far as digital marketing in Ludhiana is concerned, Easy Web Plans is sure to optimally serve you with nothing but the very best.
The advance of time has emphasised on the need to adopt new technology. Utilising the technological innovation is a must in order to tap for advancing business opportunities. Digital Marketing Agency in Ludhiana with the concentrated stock of enlightenment on the domain is ever ready to enhance your company's visibility.
A top digital marketing company in Ludhiana
Easy Web Plans is a top-notch provider of Digital Marketing services in Ludhiana. In the crowd of so many commercial firms working in the domain, you need to find a trusted and well-experienced firm. The pick is essential in uplifting not only the existing status of an organization but also in doing so in just the right manner. Amrinder Singh, the founding father of Easy Web Plans, has successfully lined 3 digital marketing agencies alongside establishing its offshore counterpart in Canada and Australia.
What do we do? 
The role of a well established and celebrated digital marketing firm like Easy Web Plans is massive in silver lining the promotional aspect of a commercial organization. Therefore, putting forward the right mix of tactics and elements is the key in the domain. The details of the tactics of our work at Easy Web Plans can be studied under the following heads.
Attracting, engaging and converting leads via Website Marketing: In the digital era, the importance of building a good website is of unparalleled importance. Easy Web Plans', Digital Marketing Company in Ludhiana, website formulation acts as the cornerstone of the strategy. It successfully captures the attention and helps form a good first impression among the clients. Thus, the conversion of potential leads to long-lasting clients becomes lucid.
Good quality more traffic via SEO: The process of reaching out to customers starts with a search engine. If your website is not SEO friendly then it might not appear vividly in the resultant search. Easy Web Plans' SEO experts optimise the content on your website. Thus, the website becomes a search engine appealing.
Our services
Apart from the above basic services, we even extend the following additional services.
Content Marketing: Content is the king and Easy Web Plans caters to it in a wide platter. The platter of the Digital Marketing Company in Ludhiana comprises building blog posts, website pages, e-book, social media posts, testimonials, case studies and Ad contents.
PPC Advertising: Easy Web Plans equally weighs pay-per-click ads and inviting paid traffic. PPC ads form that part of advertising which pays the ad publishers with every unique ad click.
Enhancing brand awareness and industry leadership via Email marketing: The essential part of the digital marketing puzzle is Email marketing. Easy Web Plans' specialised team of email marketing delivers crisp, short yet targeting email contents.
Why Easy Web Plans is the Best Digital Marketing Company in Ludhiana?
Easy Web Plans is the brainchild of Mr Amrinder Singh, a true leader in the field. It has captured the position of the Best Digital Marketing Company in Ludhiana with an eye for details and before time delivery of the projects. Alongside tapping on all the above essential services Easy Web Plans' Ludhiana digital marketing wing is a strong department with a sound value system. The following three features portray light on the dimension.
The team encompasses high-quality digital marketing professionals proficient in instant and organic online promotion and internet marketing.
If you are one such firm with a strict value for on-time delivery that too within tight deadlines, Easy Web Plans is the perfect destination for you.
Association with Easy Web Plans is definite to fetch you an assured and high ROI (Return on Investment).
Reasons to choose digital marketing instead of traditional marketing
Digital marketing is the best tool for online promotion. Straight forward marketing, promotion or advertising is the method of spreading knowledge about a firm. A wide range of potential customers gets enlightened.
The need to adopt digital marketing over traditional marketing can be listed as follows.
Traditional marketing via the conventional mediums of newspaper, radio and television does not have a scope of customer interaction. While digital marketing via the internet mediums like social media platforms like Facebook and twitter, commercial networking sites like LinkedIn, promotional email ads and blogs gives enough scope for the viewers to interact with the concerned parties. Thus, digital marketing creates a personalised touch of connection.
Cost reduction: Advertising on television and newspaper involves substantial costs. But imagine a young and first time entrepreneur with a limited fund for advertising. Digital marketing comes as a rescue for him to promote his business without crossing his budgetary limitations.
Result on a real-time basis:  Traditional marketing demands at least some weeks, at times even months, to let its result showcase. Online marketing is a winner in this case. It shows almost instant results. Everything from a number of visitors, conversion rate, most active time in a day to bounce rate can be lucidly viewed in real-time.
Development of brand: Online marketing boosts brand imaging to a massive height. Traditional marketing is restricted via limited space and advertisement frequency. Digital marketing is free from such constraints.
Non-intrusive: People buy the newspaper for getting updated with the news and not the advertisement on it. Thus, the traditional advertisements in a newspaper get ignored by a high probability. Online marketing gives full liberty to viewers to tap it. But the ones intersecting with the interest of the viewers do successfully attract and involve them.
Massive exposure: Traditional advertising in newspapers or television is restricted within a geographical boundary. While online marketing has the potential to reach any corner of the world without any restrain.
How you can boost your Business with us?
Thus, have an edge over your competitors by getting in touch with the Best Digital marketing agency in Ludhiana namely Easy Web Plans. You can boost your business relying completely on our team of experts and professionals. Reigning as a Digital Marketing Company in Ludhiana for years has enriched us with massive elements of tapping success. Come and avail the glory with us.
FAQs
Would my firm benefit from digital marketing?
Your business is sure to thrive with digital marketing.
What is SEO?
SEO stands for search engine optimisation. It is the marketing tactics to increase traffic to your website.
What is meant by keywords?
Keywords are the phrases or words that users use for searching for pages, images and blogs on a search engine.
How often should I post on social media?
3 times a week could be good for Facebook. However, for LinkedIn twice a week is a nice frequency.
What is Inbound Marketing?
It is the business methodology which utilises valuable content to attract customers. Also, Inbound marketing forms valuable connections with the users and resolve their issues.