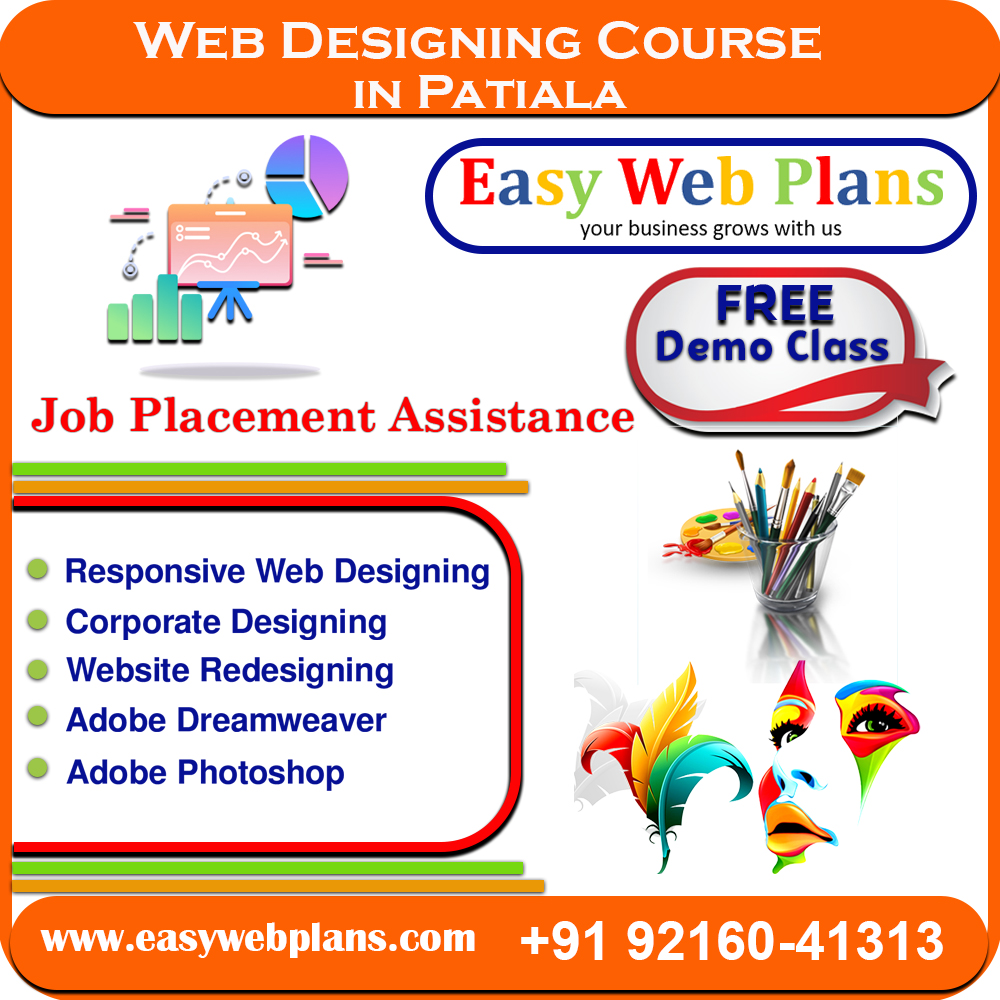 Web Designing Course in Patiala – Easy Web Plans is the leading and pioneer Institute in Patiala providing an advanced course in Website Designing. It is an ISO Certified Institute provides 100%  Live Project training and 100% Job Placements.  We started our journey 12 years back in 2008. We unlocked many milestones in the race of being the best Web Designing Institute in Patiala.
We have trained hundreds of students successfully in the past. Now they are successfully pursuing their careers in their respective fields. At Easy Web Plans we have a complete team of experts which are masters in Website Designing. We provide 100% practical training classes for our students. As we know, practical work is far more beneficial than theory work. Along with the quality study, we also provide 100% job assurance with our course. We help you to achieve a job at a good platform with the help of our Web Designing Course.
At our website designing institute in Patiala, we are also providing the candidates with a variety of other courses as well. We also offer SEO course in Patiala, PPC course in Patiala, social media marketing course in Patiala, app development course in Patiala, and many others.
Confirm Your Seat at +91 92160-41313, 93331-41313 for Our Futuristic Web Designing Course in Patiala
To book free demo class Click here:
Topics Covered Under Our Web Designing Course in Patiala
At Easy Web Plans, we have a vast set of topics covered under the Web Designing Course in Patiala. This course is fully capable to make you a Website Designing expert. We work according to the latest algorithms and design our syllabus according to the updated topics. Moreover, it is a 2 months course and along with it, we provide unlimited support to our students. In other words, we help our students even after the completion of the course. Various topics covered under our Website Designing Course in Patiala are:
HTML Code Course.
CSS Code Course.
Adobe Illustrator Course.
Adobe Photoshop Course.
CorelDraw Course.
Dreamweaver Course
Indesign Course
Our Website Designing Course is very helpful to the students for building a balanced career. Moreover, as discussed earlier this Web Designing Course is completely job-oriented. We train our students in such a way that they can easily get a reputed job in a good sector. Hundreds of our students are working in many IT sectors successfully.

Why Choose Our Web Designing Training Institute in Patiala?
Highly experienced staff: We believe in the quality study. Our staff have immense experience in this field, hence provide the best education
Customized Syllabus: We don't stick on the inbuilt syllabus. We encourage our student to bring their own project so to increase the creativeness among them.
Live Projects:  We gives our student some live project after completion of the course.
Nowadays with ample demand for Web Designing in every field, there are many institutes providing this course. However, Our Website Designing Course Institute in Patiala is among the top and highly reputed Institutes in India. We are working since the year 2010 and have earned a huge amount of respect from our students and clients. Our institute EasyWebPlans has the best teaching faculty that provides complete support to the students.
Due to our talented teachers, we have been really successful in providing an established career for many students. We provide free demo classes so that students can get a brief idea about the course. Moreover, we provide small batches along with flexible timings so that our students can learn comfortably.
We also provide 6-Month Industrial Training at our website designing institute in Patiala
At EasyWebplans, we also provide our trainees with a fully-fledged 6-month industrial training. Our trainees can reap the benefits of the training by executing their talent and knowledge what they have developed in their website design course.
Of course, our website design course will carry an ISO authorized certificate. It will be the power in your hand and you can use it anywhere in the industry for placement purpose.
Affordable Fee Structure
It is another relief point for our candidates. Easy Web Plans is charging its trainees with reasonable fee prices. Moreover, our candidates can also pay their fee in instalments as well.
The Scope of Website Designing Course in Patiala
With the rise of the globalization era, there is a huge demand for Websites in every field. Therefore, there is no doubt in saying that Website Designing has a bright future in the whole world ahead. Website Designing Course has an immense power to provide an online platform for any business.
Nowadays IT sector is providing instant jobs to the website designers. The jobs in the IT sector are usually high salary jobs. In the present era, the starting salary in the IT sector is almost 2-3 lacs. However, apart from the job sector it also has huge scope in the business sector. An individual can provide great momentum to his business using these techniques. Now every business is using a website to attract its online customers. Therefore, there is nothing to worry about as Website Designing has a bright future ahead.
What is Website Designing?
Website Designing covers various skills and disciplines in the production and maintenance of websites. The different aspects of Web Designing include web graphic design; interface design; authoring and much more. The term web design normally describes the designing process related to the front-end design of a website. In other words, Website Designing means planning, creation and updating a website.
It also involves choosing the right website structure, website layout, colours, fonts etc. Hence, all these website elements joined together forms a website. In the modern era, there is a massive demand for Website Designing in almost every sector. As there is a dire need to have a website in every business. Therefore, it is an essential aspect of every business to achieve success.
 Name of the course:     Web Designing Course
 Duration of the course:   Minimum 2-6 Months & Maximum Unlimited Timing:  We are always available for support
 Timing for the course:  To know the timing please click here
 Book Free Demo Class:  Click to Book a Free Demo Class
Call Now For Training Enquiry: +91 92160-41313, +91 93331-41313
Web Designing Course in Patiala course syllabus –
Major Topics / Modules are:
Introduction to Web Technologies
www, domain, hosting setup, Email Setup
Web 2.0 framework, colour scheme, page layout, grid layout, liquid layout, 960 grid layout
PSD Creations- PSD to HTML, HTML5, PSD to WordPress
HTML, XHTML
HTML5
CSS, CSS2
CSS3
Dreamweaver
Photoshop
JQuery
Javascript
Advanced Tages (Header, footer, nav, section, frame, left side, right side, SVG)
Responsive design, big background, action button, form
Twitter Bootstrap 2,3 versions, Foundation CSS Framework
One page site design and layout
Landing page design, contact page coding
Basic PHP concept
WordPress setup, customizations
Live Projects
Online Certification + Experience Certificate
Jobs
Introduction to Web Design
Domain Names & DNS
Client and Server Software
Static & Dynamic
Careers in Web Technologies
Latest Web Designing Software & Updates
Adobe Photoshop CSS-2
Introduction of Stock Photography
Types of Images and Image Editing Tools
Introduction to Adobe Photoshop
Using Photoshop Tools
Layers, Actions and Filters
Creating Custom Effects
Design Banners, Basic Website Layout
Design Complex website Layout
A conversation of PSD to XHTML
HTML & DHTML
Structure of HTML
Basic HTML Tags
Advanced HTML Tags
Difference between HTML & DHTML
DHTML Basic Tags
Introduction to Doc Types
Creating Simple HTML Pages
Cascading Style Sheets
Introduction of CSS
Types of style sheets
Types of CSS Selectors
Complete CSS properties
Converting Table Layout to CSS
Custom CSS Layout Design
Creating Simple and dropdown menus
Creating Appealing forms using CSS
CSS Tips and Tricks with Hacks
How to create a website
Client Requirements/ Specifications
Creating a concept and layout
Choosing a colour Scheme
Choosing Stock Photography
Texture and Typography
Design a Professional Layout
The conversation of PSD to CSS
Implementing JavaScript
Web Hosting (By FTTP)
Web Hosting Basics
Types of Hosting Packages
Changing Name servers
Linux and Windows CP
Using FTP Client
Maintaining a Website
Adobe Dreamweaver CS3
Intro to Adobe Dreamweaver
Learning the interface
Defining a Dreamweaver site
Adding Content and multimedia
Creating user submission forms
Importing a website design
Dynamic Features
Testing and Implementation
Various Browser Versions
Validating the DHTML & CSS
Common Compatibility Issues
Other Courses Offered by Easy Web Plans
Not only just the best Web Designing Course in Patiala, but we also provide many other courses. We provide courses like Digital Marketing, Website Development, App Development, SEO Course and many more. Therefore, at EasyWebPlans you get a complete set of courses. These courses are fully capable to build a strong future for you ahead.
We have the latest and updated courses that really pay off well to the students. Moreover, these courses help them in their career ahead. Therefore, at EasyWebPlans you get quality courses all available under one roof.
FAQs – 
Why should I learn this course from Easy Web Plans?
Fully hands-on training
30+ hours course duration
Industry expert faculties
Completed 1500+ batches
100% job oriented training
Certification guidance
Affordable Fees structure
What are the payment options?
We accept all major kinds of payment options like cash, card, net banking, UPI etc.
What are the different modes of Training that your Website Designing Institute in Patiala provides?
Classroom training
One to One training
Fast track training
What if I miss my class?
No worries, Easy Web Plans will assure that no one misses any single lecture. We will reschedule the classes as per your preferences.
What is the minimum eligibility for doing your Web Designing course in Patiala?
Our Web Designing course in Patiala is one of the highest demanding course in Punjab. However, there is no minimum eligibility required to join the web designing training.
How much can I earn after completion of the course?
There are many existing students who are earning more than 50k per month. However, this totally depends on your skills. We have a dedicated team of web design projects.