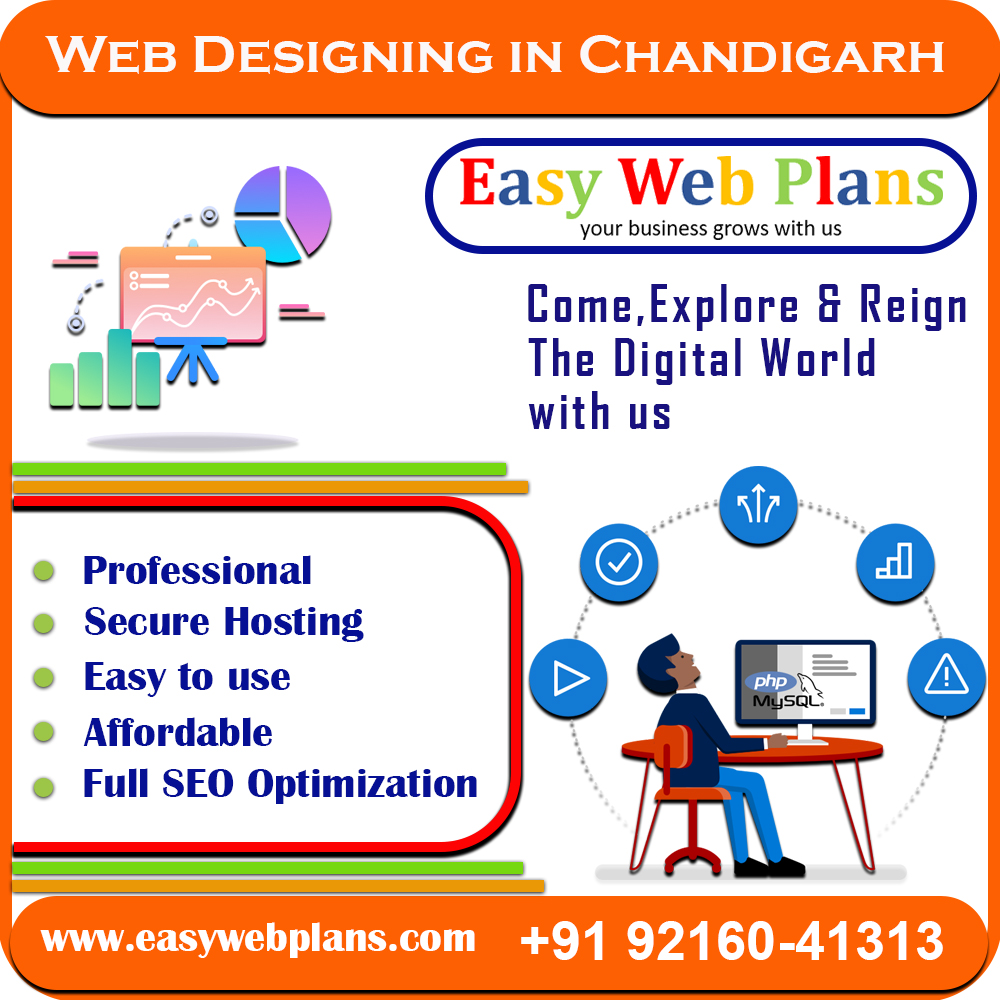 Website Designing Company in Chandigarh (Website Design Company in Chandigarh) – Easy Web Plans is the best website design company in Chandigarh. It is owned and run by Amrinder Singh. He had more than 12 years of experience in the web design industry. We are premier digital transformation experts providing excellent digital marketing or web designing in Chandigarh.
Easy Web Plans is a team of qualified and experienced website designers in Chandigarh who has a passion for design and provides the best web solutions to you. However, we are able to quality and affordable website design services and customer experience that can grow your business. We deliver a clean, custom website design that represents your brand and engages the audience. Thus, if you are in the search of the best website designing company in Chandigarh then we can turn your dreams into reality.
Chandigarh Office Contact No. Call Now: +917626930113
Easy web Plans can provide you best as well as impeccable services that will make your business to the new and improved levels where you will get a lot of profits. Moreover, we are a team of experienced or talented website designers in Chandigarh that serves you only the required services. Contact us by dialling +91 9216041313 for the best web design services in Chandigarh.
Services provided by our Website Designing Company in Chandigarh (Website Design Company in Chandigarh) –
As we already mentioned above Easy Web Plans is a team of extremely talented and professionals web designers. Therefore, they have a full experience of what needs to implement or whatnot on the website. If you are looking for web designing in Chandigarh then do not worry we can implement all the web-based services to you that can help you to build your business as a brand.
Below are some services, which our website developer in Chandigarh can provide to our potential customers –
Unique and Creative web design – Unique as well as creative web design can help you to get quality traffic or boost rankings. We implement our design your ideas with our experience to give you the design of your choice.
Logo Designing – Logo Designing is one of the most difficult tasks in web designing. Because it requires a lot of patience as well as dedication. However, the logo is very important to create your brand identity. Therefore, our team can put their best efforts to display their talent and creates your identity by creating an impressive or effective logo design.
Redesigning – If you are the one who is not fully satisfied with your current website design? Then our website designing company in Chandigarh can help you to redesign your website. We specialize in giving your site a framework, which is very appealing.
SEO and Responsive website design – Now there is a bigger percentage of people who use mobile phones over the desktop. Therefore, if your website is not responsive and SEO friendly then they are not able to open it in their device properly which creates a negative impact on your business or website. Therefore, we will make sure to design only SEO friendly or responsive website design for our clients.
What makes you choose Easy Web Plans for Web Designing in Chandigarh?
If you want to look at your website responsive, SEO friendly, beautiful or attractive to attract more customers? Then our Website Design Company in Chandigarh is the right destination for all your needs. We have a fully talented team that can put their 100% to accomplish your project with full satisfaction. However, with more than 12 years of experience in the web designing field, we are able enough to provide you with the best web designing services in Chandigarh to take your business to the next level. So go ahead and contact us anytime.
Other Services –
Chandigarh Office Contact No.
Call Now: +917626930113
Call Now: +917626930113