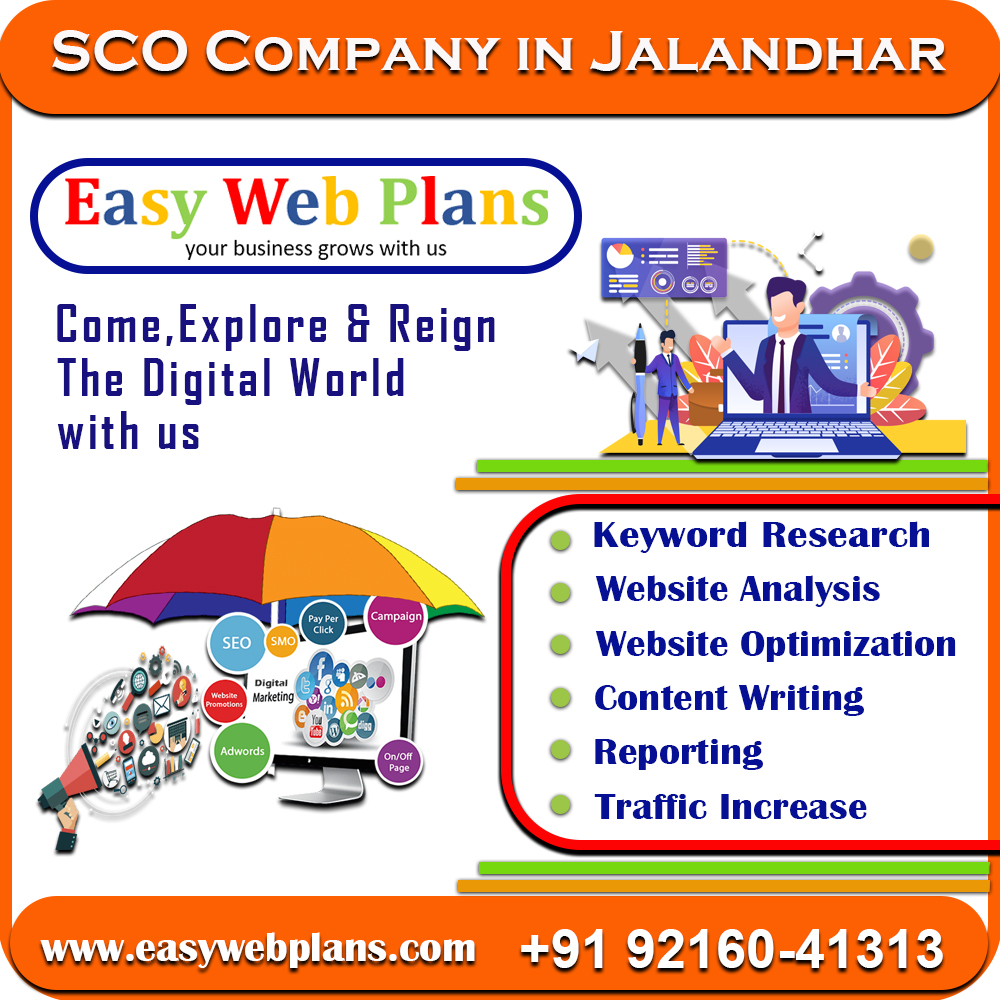 Easy Web Plans is the best Digital Marketing Company in Jalandhar. In the world ruled by digital marketing, they have remained on top for a reason. Along with providing consistent and promising results, they also offer a variety of services. The company also provides services like SEO, SMM, SEM, and PPC.
Along with adopting the ever-changing technology, they make the best use of all of their resources. If you are ready to create the right brand for your business, Easy Web plans is just the agency for you.
What Makes Easy Web plans the best Digital Marketing Company in Jalandhar?
While looking out for Digital Marketing Services in Jalandhar, Easy Web Plans can be the best option for you. While other companies are pretending to be brand-oriented, they have actually built brands out of small businesses. In order to uplift your business name, it is very important to choose for the organizations that can actually fulfil those requirements. Further including, behind all the success is the founding father of the company Mr Amrinder Singh.
Top Branding Services:
While looking out for creating a brand, you can get the following branding services:
Brand Identity: It incorporates the visual elements that a brand requires.
Rebranding: This particular service is only provided to existing brands who want to make changes to their current brand.
Designing Logo: Designing your logo creates a unique mark for your company that you cannot find otherwise.
Print Design: It includes designing your physical product along with other prints, including brochures.
 A few Other Services Offered by Easy Web Plans
Apart from the major branding services offered by Easy Web Plans, here is a list of some of the other services:
Search Engine Optimization: Being the Best Digital Marketing agency in Jalandhar Easy Web Plans provides you with the ultimate SEO solution. These services include auditing your website, making further changes to them, and even maintaining them on a monthly basis.
Content Marketing: Easy Web Plans understands the fact that content is the king. There is practically no way around the same without generating enough content for the website. That being said, Jalandhar Digital Marketing incorporates these services to create a better impact on the company.
PPC Advertising: Organic growth is not for everyone and focusing on sales; it is also valid. That is why Easy Web Plans offers the pay per click advertisement services so that you can get the most out of your buck. While opting for the same service, it also ensures that you get the maximum conversion rate from it.
Why is Easy Web Plans the Best Digital Marketing Company in Jalandhar?
Mr Amrinder Singh, who is the founder of Easy Web Plans is well & truly a gem in the field of digital marketing. He has more than 12 years of experience in the domain of digital marketing. He has also excelled in every other field, including SEO, SEM, SMO, and even email marketing. That being said, he is truly worthy of the title of Digital Guru. So, here are some of the reasons to consider Easy Web Plans as your next Digital Marketing Company in Jalandhar:
The entire team consists of fine professionals who are completely dedicating to their work.
The entire work is done in-house instead of outsourcing to third-party companies.
Delivers the work on time, along with valuing punctuality.
Always getting advice for potential opportunities to build your brand.
Associating yourself with Easy Web Plans ensures that you get a positive ROI.
Importance of Branding for your Business:
While working with the best Digital Marketing Agency in Jalandhar, it can potentially increase your brand value. That being said, branding plays a very crucial role in your business. Down below is a list of some of the reasons why one should consider investing in branding:
Branding Helps You Get Recognition:
The entire idea behind branding is so that your customers can recognize you. After all, Digital Marketing in Jalandhar works for the same reason. Some of the key elements of your branding include logo and a perfect tagline. This essentially creates the face of your company.
Branding increases your Business Value:
After all, the entire idea behind branding is to ensure the future of your company. Branding ensures a strong connection with your business. It also provides you with leverage within the industry.
Branding Generates More Customers: 
There is no point in arguing to the fact that branding is a customer magnet. While creating the right brand value, you don't have to deal with marketing. Instead, customers will knock right into your doorsteps.
Creates Trusts Within the Marketplace: 
Once you have created a brand, it is very important to keep up the professional appearance. While maintaining the same quality for your products, you can always create a trust in the marketplace. By doing the same, it can help your business in the long run.
With the increasing competition among the businesses, it is very important to choose the right Digital Marketing Company in Jalandhar. Easy Web Plans not only can just boost your business; it can create the perfect brand image for you. With years of experience and top of the line services, you can always get a satisfactory result with Easy Web Plans. That being said, without any further due make sure to contact Easy Web Plans for all of your digital marketing requirements.
FAQs
What exactly is branding?
Branding is the set of characters that makes your company recognizable and distinguishable from similar companies.
What is the need for developing a brand?
Even building up a small brand can help your business to grow in the long run. Building a brand helps your business to grow for themselves.
Can I develop a brand on a small budget?
The budget is never a concern while developing a brand. All you need is a vision to create the perfect company for yourself.
How long does it take to create a brand?
Understand that branding is not marketing. The idea is not to generate revenue but create sales for a long span of time. Thus, it would certainly take some time to build a brand.
Can I stretch my brand to cover new products?
Certainly! After all the sole idea is to create a name out for yourself. With the help of a brand, you can easily cover your new line of products or services.