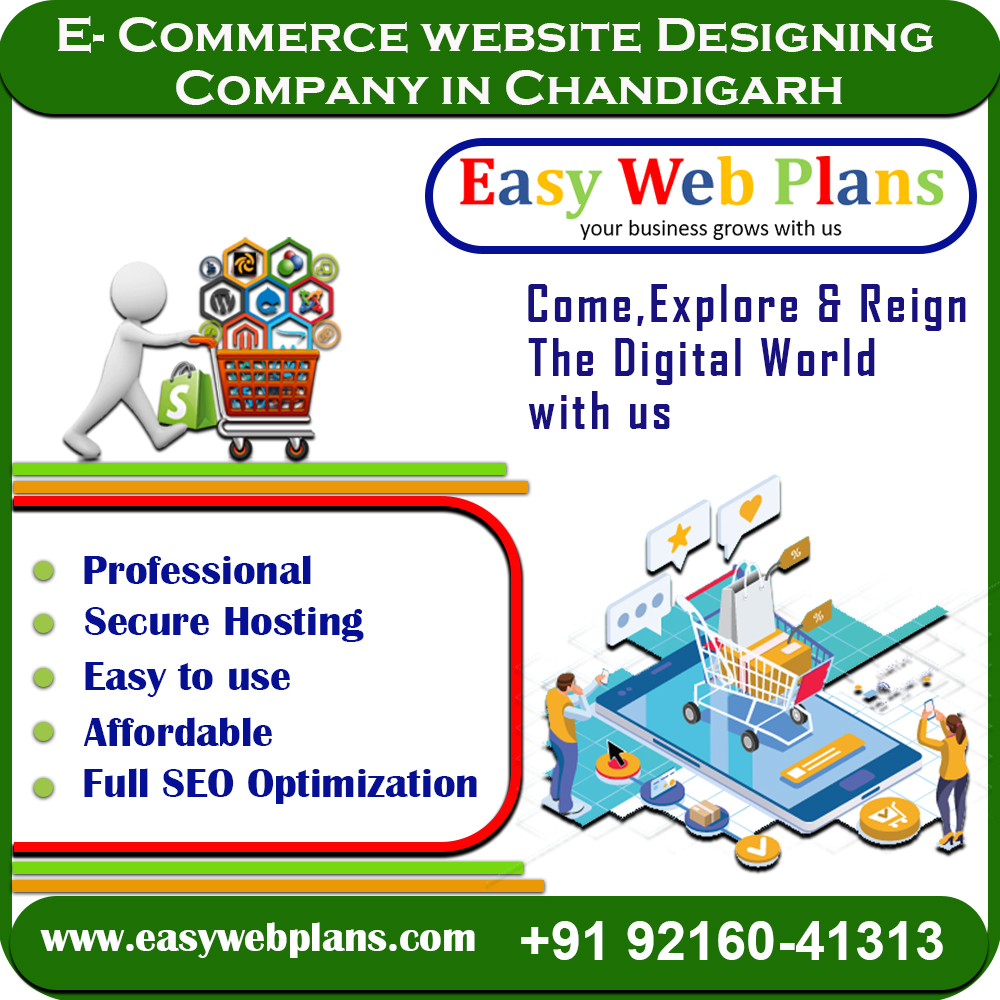 Ecommerce Website Development Company in Chandigarh – Easy Web Plans is known as one of the Best Ecommerce Website Development Company in Chandigarh and Punjab. We can develop as well as design eCommerce stores in Magento, Word press, and any PHP Frameworks. We cater to the needs by constructing a tailor-made solution as per your needs and having multiple branches all over the world like India, Australia, Canada, New Zealand, UK and the USA. By being the leading eCommerce Development Company in Chandigarh, we are entitled to design and develop creative and with the support of the various platform.
We offer various types of services like Web search engine friendly website Designing, Web Development, Digital Marketing, SEO, PPC and more. However, running an eCommerce website is definitely is not an easy task. Therefore, we at Easy Web Plans will develop a robust eCommerce portal that provides all necessary features to simplify your task.
Easy Web Plans – India's most trusted eCommerce website development company in Chandigarh since 2008
With 12 years of experience, we have earned more than 5000 happy clients. Our 300+ full-time experts have 10+ years of average experience in creating custom eCommerce applications. In addition, our eCommerce website design in Chandigarh services helping eCommerce and M eCommerce businesses increase their customer reach and grow their revenue through the optimal combination of Omni channel presence. We help B2B and B2C clients drive our customers' 100% satisfaction and expand your audience to boost your sales.
Benefits of ECommerce website design
Our experienced website designing services in Chandigarh here at Easy Web Plans, remain updated about the changing market trends. We assure that eCommerce development services in Punjab provided by us benefit you immensely to the maximum achievable extent.
Increase security services – With the advancements of online payments, it is highly advisable for you to make your portal safe as well as secure. Because any sort of transaction is a sensitive issue. Any sort of loss cannot accept and can affect your business reputation. Therefore, your website requires security that can never be ignored.
Better visibility – It is very important to receive a good amount of traffic on the website. However, it is only possible if your site is good looking or user-friendly. Moreover, your website should be search engine friendly in order to increase the visibility of the website.
Higher profitability – Achieving's profit is not a big task if you know your business insights. Turning your website visitors into your potential customers needs comprehensive business knowledge and planning which can help you to convert your visitors into your customers.
Massive impact on visitors – With the advancement of Digitalization and Technology, websites will become more advance in future and can create a huge impact on visitors. The experts of our Ecommerce Website Development Company in Chandigarh know the complete insights of eCommerce and help to make your visitors to your potential customers.
Business Benefits of our Ecommerce Development Services in Punjab
There are indeed various benefits of choosing our eCommerce Development Services in Punjab. If you are confused whether you need to implement the services or not then below are the points that will help you to sort out your confusion.
A well-designed website built by a professional company like our Ecommerce Website Development Company in Chandigarh will undoubtedly attract a lot of people.
Our Ecommerce development services in Punjab can make your website user-friendly as well as easy to navigate.
With a well-designed website, you get potential customers.
Our Ecommerce Development Company in Punjab can lead to higher conversion for your website. Higher conversion means more business.
Moreover, our eCommerce Development Company in Punjab can also give you more engaged users. It will help in improving the popularity of the business.
Who does not want to rank higher on the search engines? Our services can help you in securing the top ranks.

Why choose Easy Web Plans for eCommerce website design in Chandigarh?
Ecommerce Website development has remained one of our specializations. Therefore, Ecommerce website in Chandigarh Company Easy Web Plans has been building custom eCommerce websites for our clients that help their business to grow. We provide high profitable E-commerce platform with a complete user interface and user experience with a complete package of eCommerce solutions.
Our Ecommerce Website Development Company in Chandigarh has a dedicated team to incorporate SEO friendly features as a part of the eCommerce development solutions.
We have a strong experience in eCommerce web development technologies as well as frameworks
We offer comprehensive quality testing for your eCommerce portal with proper functionality and performance testing with detailed analysis
Site speed optimization
Secured Payment Gateway processing as well as SSL complaint
Well-structured and organized data
Payment Gateway Integration and cross-browser compatibility
Development of customized shopping cart
Social media integration to make your users engaged with your brand
World-class solutions to fit every budget
Upload unlimited products
SEO friendly features such as Search engine friendly URLs, Google Analytics support to track the performance of the website and more
Advanced design modules such as table-less design, modern coding and clean CSS
Easily manage items, categories and much more
Integration shopping cart features
Request a free quote from Easy Web Plans and start counting your profitability today by dialling +91 9216041313.
Best Ecommerce Website Development in Chandigarh Company to hire
Being one of the best eCommerce Website Development in Chandigarh, Easy Web Plans provides 100% satisfactory solutions to various business types. Delivering eCommerce development services in Chandigarh for years, we now incorporate a collection of successfully accomplished B2B and B2C projects. However, our specialist's team compromises of top web designers and developers who specialize in consulting, site design and development, marketing, system integration and support. We have assisted a number of business in website promotion by offering customized eCommerce website building services. We build responsive, easy to use websites to provide the best online cart solutions.
What is ECommerce Website Development?
Ecommerce Website Development is the need of time. If you want to grow your business then you must have an E-Commerce Website for your brand or company. Easy Web Plans is an emerging eCommerce website development company in Chandigarh with a sole vision to provide the best results to our precious clients. We are a team of hardworking persons and with a solid value who works for the benefit of everyone: customer, employee and company. We feel privileged to tell that there was the time when we started our business with very few clients and today is time we have customers from all over the world. The only reason behind our success is a diversely talented team who keep upgrading its skill to cope up with ongoing technology.
Our Qualified Team of experts Have years of experience in Delivering various Ecommerce Development Services in Punjab –
Ecommerce application development – Our eCommerce developers create user-friendly websites that help you to maximize the revenue of your business through Digital sales. We offer the latest technologies and the finest eCommerce development services.
Custom eCommerce website design – Our Ecommerce Website Development Company in Chandigarh provide the most efficient as well as professional custom eCommerce website solutions to meet all your business need in an efficient manner.
Responsive shopping website – Our effective eCommerce web development services in Punjab also allows your website to look great. We give your website trendier and an attractive look.
Ecommerce cart Development – Our eCommerce cart development services in Punjab allow you to sell your products easily as well as in a hassle-free manner.
Plugin and Module Development – We deliver perfect plugin and module development services with fast-changing eCommerce industry.
Web Development and customization – Our team of Web Developers in Chandigarh offer the most efficient and customized web development solutions to take your business to a higher level.
Payment Gateway Integration – We provide customers with hassle-free payment gateway services that accept credit card or direct payment processing securely.
Maintenance and Support – Our 24 by seven Maintenance and support service provide access to clients with expert advice along with a timely solution to all their problems in an efficient manner.
We build websites that convert –
Easy Web Plans is one of the tops and reliable eCommerce website development company in Punjab. We have a team of highly experienced members who have great expertise in their respective fields. Although, when experience comes together with creativity, the result is magical. We create a timely, convenient and time-saving user experience that results in maximum conversions and helps gain the faith of clients that ensure long term relationships. Moreover, our team of graphic designers can create customized graphics for your website that help engage the user's attention.
We create user-friendly eCommerce websites that help the user navigate through the website easily. We understand the fact that users like to get their work done quickly. Thus, we make websites that consume less time. In addition, our eCommerce Website Development Company in Chandigarh provides you with strong marketing support by helping you establish a strong online presence.
FAQs –
How long it will take to set up my eCommerce store?
The actual time for an eCommerce website is around 5-7 weeks. However, sometimes there is a slight deviation in the schedule. This is basically, due to changes in the design and we try our best to meet the set deadlines.
Which is the best platform for an eCommerce website?
It all depends upon your requirements as well as how much you want to expand in the near future. If you are selling a few products then a basic eCommerce platform like woo commerce is sufficient. If you are selling a large number of products then you can choose Magneto, Open-cart and other PHP frameworks.
Can I build my new eCommerce website while my other website is still live?
Yes, we can develop your new eCommerce website by keeping your existing website live. Our eCommerce Web developers in Chandigarh works on the staging server and take your feedback at every step. Once the site is complete, then we can move it to the live server after your confirmation.
What payment methods my eCommerce store will accept?
Your eCommerce store will accept all major debit cards, credit cards as well as PayPal payments. Don't worry Payments and subscriptions are handled securely.
How can my potential customers find my website?
We develop your eCommerce store that is SEO friendly. But we advise our clients to optimize their website. Most of the website owners engage SEO Companies on a full-time basis to rank their product the top of search engines. It helps those generating leads and sales.
How do I add my products on my website?
Our Ecommerce Website Development Company in Chandigarh will assist you in uploading your products on your website. Our eCommerce store has a bulk upload feature that allows you to upload products in bulk.
Do you offer eCommerce store maintenance and support?
Yes, we offer eCommerce store maintenance and support at a very affordable monthly cost. You can choose our maintenance package based on your needs.
Do you offer eCommerce store migration?
Yes, if you want to migrate your eCommerce website to another platform, then we can assist you. Our charges are based on the scale of your existing eCommerce store and the work is required for migration.