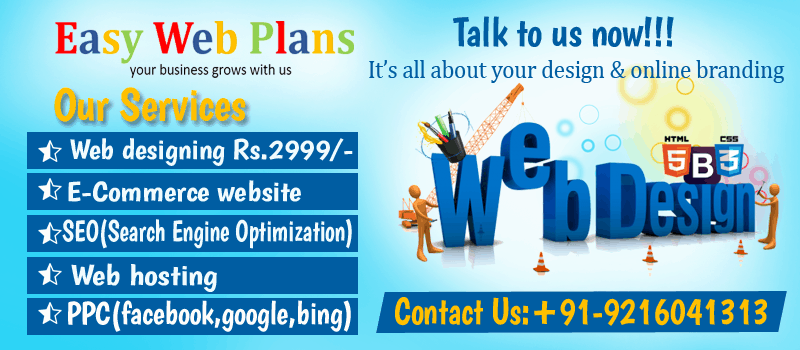 Web Designing Company in Ludhiana – Your website is the most important concept of your marketing strategy. It serves as the hub of all your digital activity. However, it is where you will make money or lose money. We, Easy Web Plans Being the leading Website Designing Company in Ludhiana, design your website that will help you to generate the most conversions. We do this just by delivering attractive website design in Ludhiana, responsive theme as well as a user-friendly website.
Empowering Business Through Creative, Strategic and ROI Driven Solution at our Web Design in Ludhiana Company –
Easy Web Plans is a Punjab based Digital Marketing Company specializes in professional website design in Ludhiana which focuses on reaching your business goals. We are the top and reliable Web Designing Company in Ludhiana, experienced in web page design, developing as well as hosting websites that suit your requirements. However, the different areas of web design include graphic website design, attractive responsive website designs, and cool website layouts. Therefore, looking for a web development company in Punjab or web design in Ludhiana for your enterprise, then we are the one. At our Website Designing services in Ludhiana, our expertise lies in human-centric customer experience through digital innovation, innovative marketing, and Transformative Technology. We craft Digital Experiences that excite and inspire. You can make your creative website through us within your budget.
Easy Web Plans – Best Web Designing Company in Ludhiana –
The mobility team at Easy Web Plans specializes in innovating and offering an incredible user-experience in the mobile world. Although, our team works to offer groundbreaking technology, strategic insight and supreme quality apps which will offer marvelous experience to the user. Being the reliable Website Designing Company in Ludhiana, we offer the flexibility to accommodate any changes or rectify the problem as soon as they arise. We as a Web Design company in Ludhiana, our aim is to design the websites to improve the satisfaction levels of the customers. We increase the usability as well as the accessibility of the website and makes the interaction between the user and a product. In addition, our design opportunities will help you to enter the world of endless possibilities.
Easy Web Plans offers an explicit array of website designing services in Ludhiana to make sure that we are one-stop for all your website requirements.
• Static Website Design
• Graphic Website Design
• Responsive Website Design
• Template Design
• Custom Website Design
• Corporate web design
• Web Portal Design
• Dynamic website design
We are a Creative Web Designing Company in Ludhiana –
At Easy Web Plans, we generate ideas that alter the general perception for our customers who are looking for website designing in Ludhiana or any other location in Punjab. Your success is our success and we love we are doing. We only deliver the best of digital experiences, for you as well as your customers. We handcraft digital brands and visual experiences that represent you. Your product, your company, and your audience.
Handcrafted Beauty – Our Website Designing Services in Ludhiana Team, understand why your website should be outstanding as you are. Moreover, our web page layouts are designed from zero, tailor-fitted to your specific needs and delivered on time.
Designed for Mobile – Mobile browsing is booming, with over 60% of internet usage in India. Therefore, our website Designing company in Ludhiana understands this fact and design highly responsive websites that increase the user experience, irrespective of the device screen.
Simple and Elegant – We believe in impactful elegance as well as sophisticated simplicity. However, we always delivered your message to your audience in a unique and effective manner that inspires engagement.
Effective Digital Marketing Strategies for Tangible Results –
Easy Web Plans Is a resourceful web designing company in Jalandhar, Ludhiana, and Patiala that offers a full range of designing solutions to the business worldwide. We have extensive skills, knowledge, and experience in the field of web design, development and SEO. Our Web Designing Company in Ludhiana create a website that effectively communicates your business message to your target audience. We are a team of talented as well as experts web designers.
How it Works –
Holding a stronghold in web designing in Ludhiana from the last 8 years. We have developed and followed a systematic well-structured website design in Ludhiana as well as a development approach. Here's how it goes-
1. Discover – Get surrounded by experienced designers as well as developer to give shape to your idea.
2. Design – Kick off your digital journey with a classy web design in our Website Designing Company in Ludhiana that is both unique and powerful.
3. Develop – Follow proper agile methodology to build fast, responsive and manageable Digital solutions.
4. Engage – Implement a well-planned marketing strategy to boost lead generation and engagement online.
Furthermore, our unique client-oriented requirement assessment and specification process helps us to design engaging and responsive Digital experiences. We combine various business processes with creativity to crave the best successful solution for your brand name. Ready to witness a perfect world of brilliant typography and design, contact our Professional Website Designing Company in Ludhiana Today.
Thus, For web designing in Ludhiana, visit us and get your website designing and developed by our expert team at an affordable price.