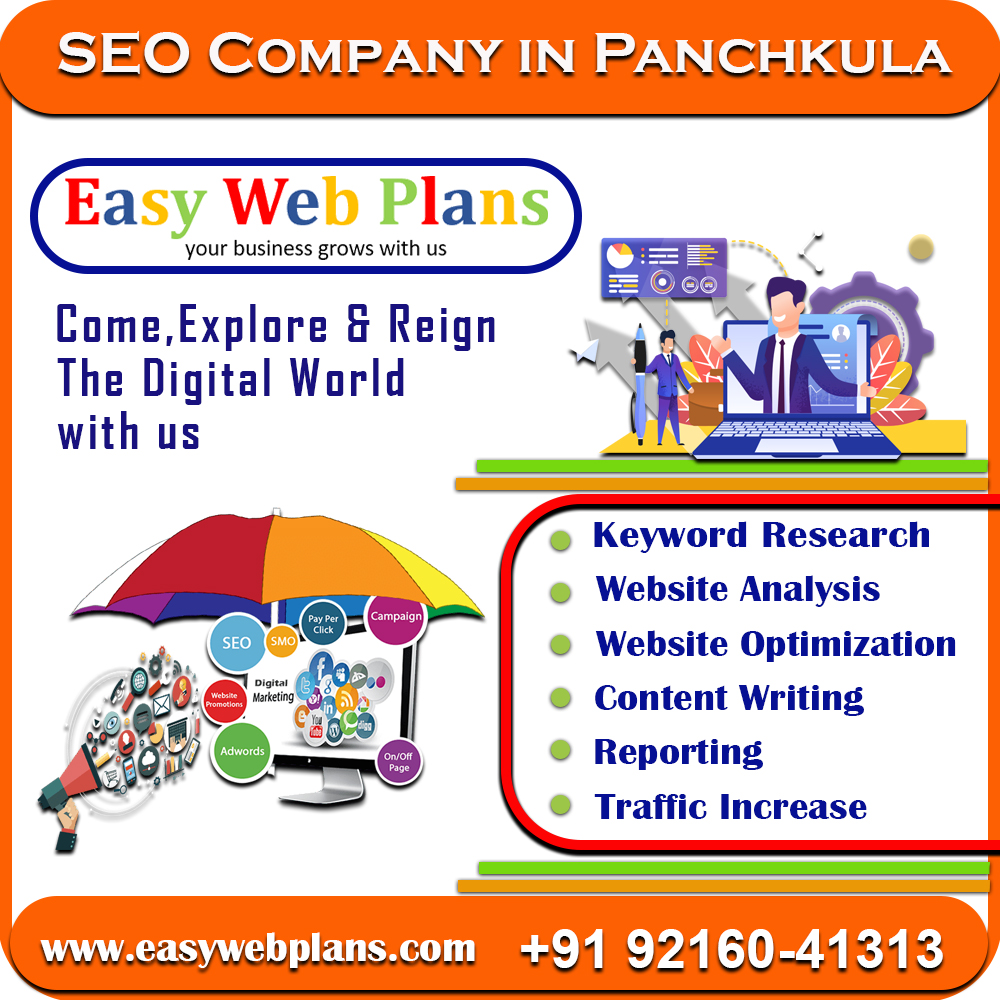 SEO Company in Panchkula – The right choice of an SEO agency that delivers results remains Easy Web Plans- SEO Company in Panchkula. An SEO agency can offer various services and can help you to be more visible in search results. With a proper SEO strategy, you can be successful in the market and can have a rich sales funnel. A good SEO agency like Easy Web Plans gets you an optimized site for search engines that keep you ahead.
The underlying strength of Easy Web Plans- SEO Company in Panchkula
The knowledge, processes, and experience of the SEO agency can be the vital factors for choosing the right SEO agency. Moreover, it is always a good idea to choose an SEO Agency in Panchkula that offers more than SEO. Easy Web Plans have all these strengths of providing you with the best service.
The founder of The Company Mr Amrinder Singh is exceedingly qualified and has more than 12 years of experience. Moreover, he is a master in the computer (IT) and is a Google/Bing certified individual. He is also a PPC expert and has in-depth knowledge of digital marketing, CRO and UX design.
What activities Easy Web Plans- SEO Company in Panchkula carry out?
Easy Web Plan, SEO in Panchkula, specializes in SEO service and helps businesses achieve their mission for success. We invest time with our clients and know the type of business to start making the best strategies for SEO. We follow organic and clean SEO to make clients visible and stay on top of SERP for a long time.
In particular, our strength lies in with our talented team and in-house expertise of SEO. We analyze the site of clients and make useful changes to make it friendly to search engines. Easy Web Plans takes pride in its cost-effective steps and reliable efforts that pave the way to success.
Services that Easy Web Plans- SEO Company in Panchkula provides
SEO optimization is a vital tactic for marketing to help a company getting success. It is because there is a rush to get the top spot in Google and other search engines. Therefore you must find the right SEO agency like Easy Web Plans, SEO agency in Panchkula, to get ahead.
Also, with organic SEO of Easy Web Plans, you can earn the trust of people, and stay at the top for a prolonged period. Since it is crucial to select the right SEO Company like Easy Web Plans, you should know the service offered. Here you can find a few vital services that Easy Web Plans offer.
SEO web designing: Ordinary web designer can offer a design that may have a good look and feel, but may not be visible. However, when you hire Easy Web Plans, SEO services in Panchkula, you get an ROI driven site design. Apart from a good look and design, the design of your website will focus on getting more traffic and conversions.
SEO audit: Easy Web Plans also carries out an SEO audit and spot the ways to make it better. The audit includes the technical audit and on-page and off-page SEO and link building strategies.
SEO strategy: Not only we do an SEO audit, but also we make SEO strategy and club both to map out the progress. We can even offer a custom SEO plan and can suggest many ways that can make your site better.
Keyword research: It is one of the key services for a good SEO agency. There are many ways to create a list of keywords and make it proper to use at your site. We have our way of doing it with a high rate of success over the years.
How Easy Web Plans, SEO Company in Panchkula, remains the best SEO agency?
We at Easy Web Plans, the Top SEO Company in Panchkula, can be your best choice for several reasons. To explain, why you should hire us, you can find the list of benefits when you engage us.
We build brand awareness: We use proper SEO techniques and help companies to get high ranks for their sites in the search engines. With our organic SEO strategy, it becomes easy to get top rank in Google. It also helps to earn the trust of people and get more clicks as you become more visible.
We help you achieve business goals: Also, we help businesses to achieve goals and increase sales and earn more profits. With our SEO tips, you can expand your business to new markets and get more traffic.
We help to build networks: We can make you visible on many platforms and help you to build networks. Once you develop good networks, it becomes easy for you to increase your sales and get a quick ROI.
We measure results: We at Easy Web Plans, SEO consultant in Panchkula, measure and analyze our efforts for SEO. We take action to make a better approach and make you remain at the top spot.
Other Services –
FAQs
Why SEO is so important?
It is because the search engines are now very important for getting a good rank. When you get a good rank, you become more visible and it becomes easy to find your products and services. Thus, you can get more hits at your site and get more conversions that help to get a better sale.
How long it will take a site for indexing?
It will depend on a search engine and for most cases; it takes a week to index.
What is keyword analysis?
To begin with, you need to first select the right keywords that can make you rank well. It is in fact keyword analysis and it involves a good skill and experience.
What is copywriting?
To explain, it means writing the right words for promoting your site. It can include print ads, letters, articles, websites, etc.
What is link building?
It is an SEO strategy and with this SEO acquires trusted links to boost the link equity of a page. It involves both internal and external link building and both are vital for success