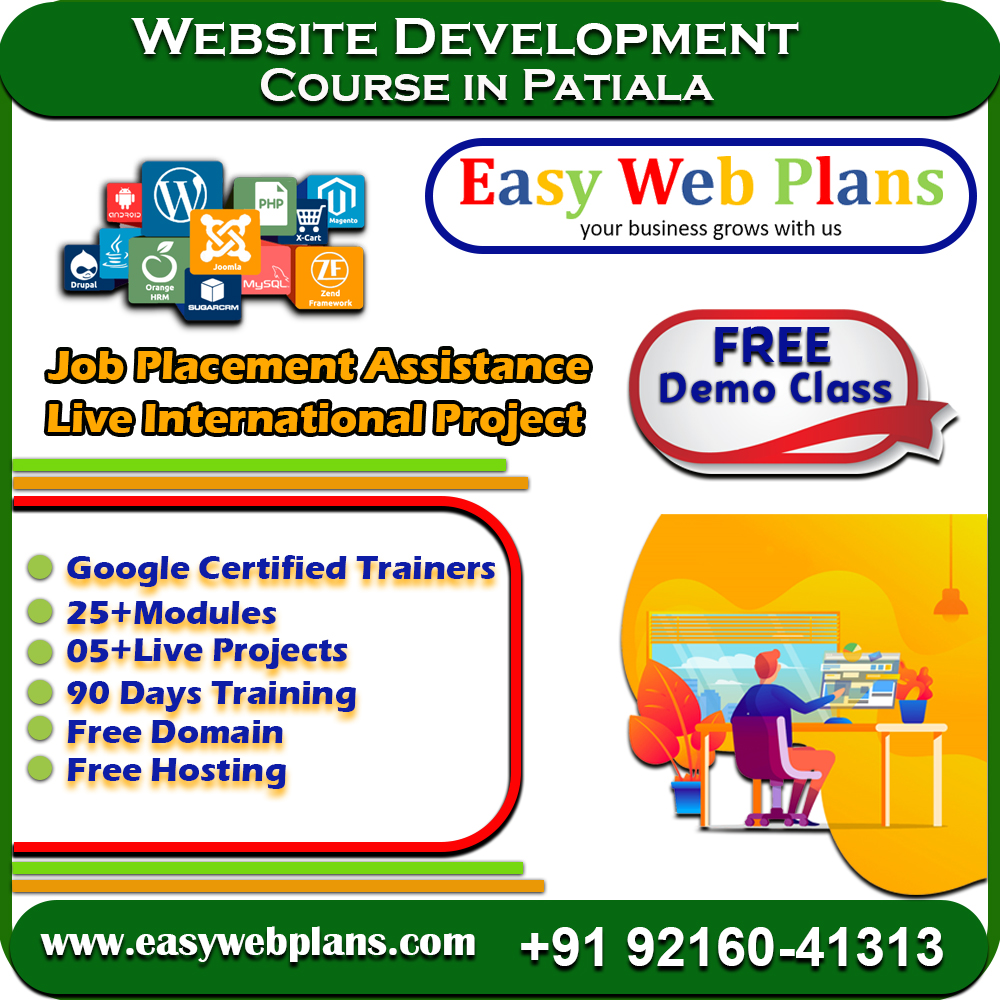 Web Development Course in Patiala – The Internet is a boon to connect easily and now businesses with websites can reach people with more ease. It has led to a surge in web development courses since it is a great way to a brilliant career.  A Web Development Course in Patiala of Easy Web Plans is indeed the best way to become a web developer.
People now engage more in mobiles, PC, tablets, and connect to different sites to look for what they want. Since people stay on the front page of Google more, the page ranking of a site is very important.  It, therefore, is very vital to make a website that is user friendly and liked by search engines.
So you should learn how to make the best website with Web development training in Patiala. Moreover, with proper training, you can help businesses to get more leads and get quick ROI. On the other hand, you can also find various scopes to build a good career and earn good money.
As a web developer, you can make many types of web pages and fulfil the needs of businesses. You may need to learn key concepts of web developing and for this, you need to take good training. At our Web Development Institute in Patiala, you will get your concept of web development very clear with the unique design of course.

What Training do you get at Web Development Course in Patiala of Easy Web Plans?
At Easy Web Plans – Web development Training Institute in Patiala, you will get job oriented and professional training that can make you a creative web developer. Also, we make efforts to meet the high demand for quality web developers with unique course modules. Besides, the Website development course in Patiala has a splendid record of pass outs with hundred per cent placements.
Also, at Easy Web Plans, the students get access to the best tools for web development. We offer both short and long term courses for different levels and this can meet the demand for the industry. Our courses are unique and it can be for one student or a group of students.
We build web developers for the future that can indeed serve the industries in the best way.   Here you can find a few vital courses that we offer.
C and C++ language and advance course.
A complete course on Java.
PHP master course and PHP MySQL premium course.
Training on Microsoft courses like SQL server standard, SSRS training, etc.
Magento master course.
PHP, Python master course.
WebMaster course.
WordPress standard and master course.
Why the Web Development Course in Patiala from Easy Web Plans is the Best Choice?
Since the scope of jobs for web developers is rising, it is important to undergo a good training. For a competent web developer, there are jobs galore, and good training can hone the skills for the best job. At the Website development institute in Patiala, of Easy Web Plan, you can indeed become a complete web developer in the true sense of the term.
In fact, front-end developers made Facebook and some of the very popular platform's design. Therefore, you can imagine the extent of the scope that a web developer has. Besides, when you become a web developer, you can work in any industry that deals with online jobs.
It is indeed fun as well as interesting to continue to work as a web developer. Here you can find some the scope of jobs that you can have after you become a web developer.
The entertainment industry and mobile development companies.
Medical and the healthcare industry, and banking sectors.
Insurance companies and govt. organizations.
IT sectors and in different industries.
To book free demo class Click here: Book Your Demo Class.
Other Courses we are providing?