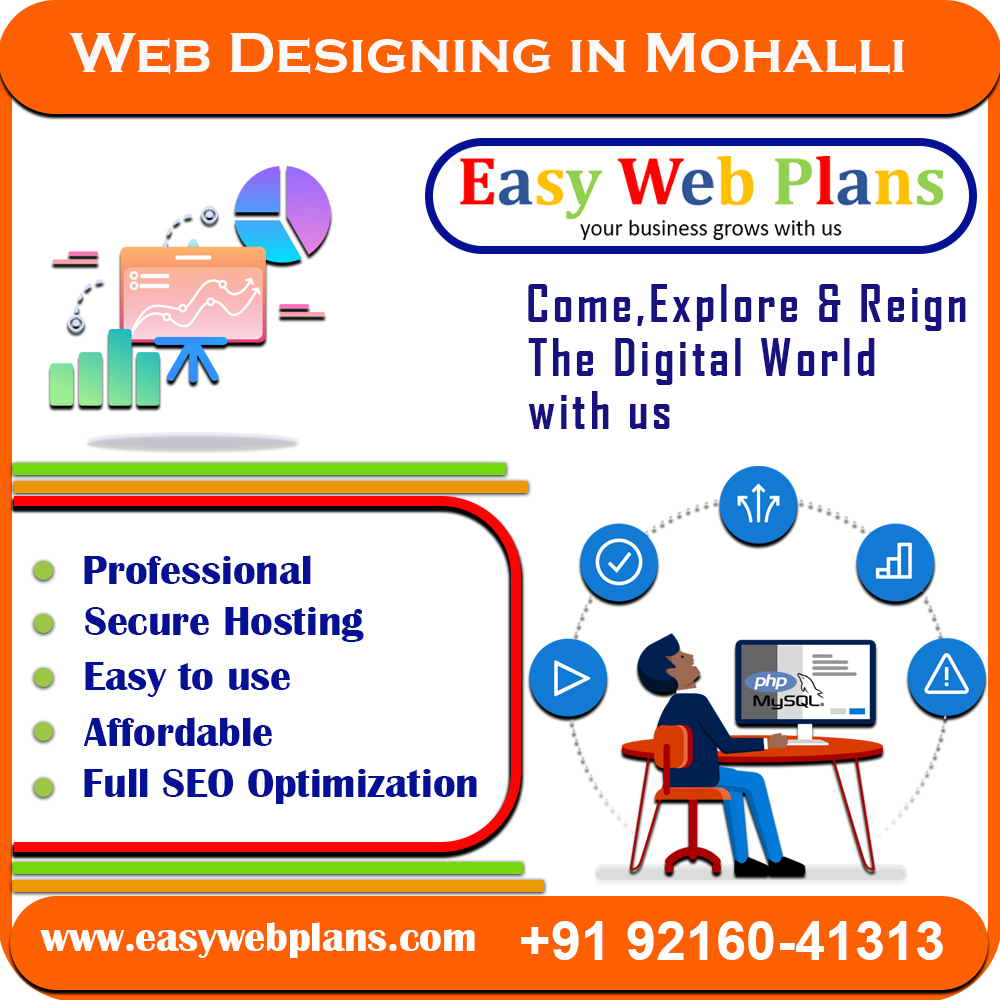 Web Designing Company in Mohali (Website Design Company in Mohali)– Whether you need a new website or you want to improve an existing one, Easy Web Plans approach each of our projects with a passion for imagination as well as innovation. Easy Web Plans Crafting Beautiful Websites and Digital Experiences to help ambitious Brands grow.
We are creating high quality, high performing digital experiences that turn your website into a marketing machine that gets long-lasting and tangible results for your business. Being the best website designing company in Mohali, we design websites that are tailored to your brand and business needs. However, we also benefit you with the use of recent trends and technologies in the web design industry.
We are a creative Web Designing Company in Mohali (Website Design Company in Mohali)-
Easy web Plans is a nationally recognized full-service web designing company in Mohali as well as Digital Marketing Company in Punjab. We are specializing in custom web design, SEO, copywriting and branding at our website designing services in Mohali. We bring over 8+ years of hands-on experience working with clients in Canada, Europe, USA and throughout India.
Being the leading website designing company in Mohali, we consistently dream, executes and deliver inspiring, innovative marketing solutions for web, print, web identity. In addition, we offer a comprehensive turnkey creative solution to achieving your marketing goals. After all, if we create something attractive to you, you will probably like us. But if we create something really pretty that impacts your market, then we are pretty sure you will love us.
Services we are providing at our Web Designing Company in Mohali –
Custom WordPress Design – WordPress is not only a blogging platform. Word press has evolved throughout the years into a versatile open source content management system.
Responsive Websites – As a Website Designing Company in Mohali, we know that the website is no longer just on the desktop. We out huge emphases on responsive website design. However, it will ensure viewers get the best possible browsing experiencing on desktop, tablet and mobile.
E-commerce site Design – E-commerce website Design is our leading service, providing business nationwide with a professional website as well as shopping cart solution. Having the best web design services in Mohali, we prepare to help your company find a solution for the needs that best suit you.
Digital Marketing -Furthermore, our Digital Marketing Company in Chandigarh has revolutionized the industry by empowering various business organizations.
Graphic Designing – Our dexterous team of skilled professional graphic and website designers in Mohali make Easy Web Plans the top graphic designing company in Punjab.
Excellence From Top to Bottom-
We have a team of our web designers in Mohali, contact you to determine your goals for your site and compare that with the needs of your target audience. On the other hand, we will also clearly define the site's content as well as architecture. Then we will generate mockups or visual interpretation of your new site including pictures, graphics and colour treatments. Finally, we will proceed to development and quality assurance testing before going publishing.
Word Press Web Design + Digital Marketing creating websites that drive results –
Our Web Designing Company in Mohali design and build responsive, SEO rich custom WordPress websites. Because of that match the unique requirements that your business demands. In addition, we manage public relations or corporate communications and deploy campaigns through social media. Furthermore, our web designing in Mohali experts and online marketing specialists are ready for your business, website design and internet marketing needs. Thus, we create websites and marketing plans that drive results and enable businesses to grow.
Our website design company in Mohali and online marketing company works with small business websites to large company enterprises. Specializing in web design, development, business branding, logo design, digital marketing, content strategy, and copywriting services based in India.
Web Design -The Right Solutions for your Business –
Easy Web Plans, as a Website Designing Company in Mohali know exactly what needs to be done to be successful online with your website. Deal with a reliable & professional web design company in Mohali, Chandigarh who are based in the heart of Punjab & have experts in every area of web design, to help make your business succeed. We provide end-to-end comprehensive solutions at competitive rates, which makes us the best website design company in Mohali.
What's the process – Contact us @9216041313
First, let's arrange a meeting. Contact us at 9216041313. One of our consultants will happily come to you. We run you through what options we have available within your budget.
In this meeting, we will discuss your ideas, plans for the future. What you want out of the website. Where you plan to be and set up a plan for the next year. This will help most people "settle their nerves" in the matter.
Other Services