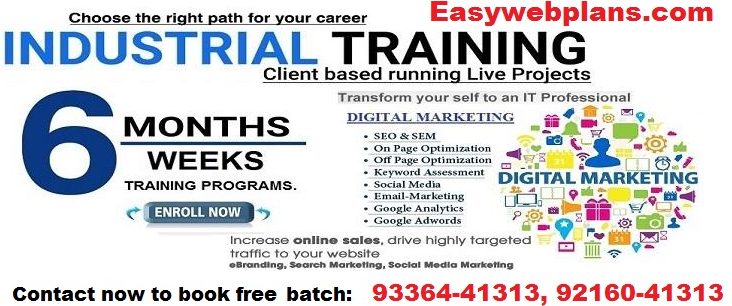 6 Month Industrial Training in Patiala – Easy Web Plans is a full-scale leading Web Designing and Digital Marketing Company and Institute in Patiala. We have years of experience and knowledge to create solutions for every client. We have a global reach to our customers having our branches in other locations like Chandigarh, Melbourne, Surrey, London and Auckland. We offer 6 months Industrial Training to the students in various modules like SEO, Digital Marketing, PPC, Web Designing, Web Development, APP Development and more. We also help our trainees and students for PG facilities and surely provide them with 100% job assistance and also help them in conducting assured job interviews.
Today We are in a Technology age. Technology offers a promising career ahead. Students graduated in computer science, Mechanical, Electronics, Civil, etc. Therefore, 6 months of industrial training programs are beneficial for the students to cope up with this technology world.  However, The major reason behind the necessity of 6 months of industrial training for engineering students is that they are well prepared for the corporate job.
Enrol now for 6 Month Industrial Training in Patiala –
These days MNC's are preferring candidates having an industrial training certificate rather than degree. Therefore, it is a good option for the students especially for engineering students can enrol in 6 Months Industrial Training with Live project-based programs.  These Training programs expose students to the working atmosphere in the industry and at the same time increases their self-confidence as well. Moreover, The technology passionate participants completing the industrial training in Punjab and find a wide area of choices in the real industry.
Therefore, Easy Web Plans offers an industrial training program since 2008. Our training program includes comprehensive practical as well as practice training sessions based on their live projects. Furthermore, The industrial training institute in Patiala, Easy Web Plans has a big team of trainers who are veteran industry professionals. We are the most trustable, reliable and top company, which provides the 6-month industrial training to different classes students. In addition, they provide practical rooms and infrastructure to make their training more effective, learning and informative.
Who can Join This Training?
Industrial Training from Easy Web Plans, a top industrial Training company for Engineering students can join by CS Students, CSE Students, IT Students, B.E Students, B.Tech Students and other IT related degree holders looking for prior job experience or those who want to enhance their knowledge.
Any individual who is interested in working on live project training programs can also avail this training.
Courses covered under 6 Month Industrial Training in Patiala
In the Industrial Training at Easy Web Plans, trainees are offered with a variety of courses. These courses are very useful as well as beneficial from the modern competitive business point of view. However, After practising these valuable courses, trainees maximize their chances to be successful professionally in the modern tough competitive environment.
Now let's have an in-depth study of these courses which are offered in the industrial training in Patiala. As without knowing the full course module, trainees can't get a full idea of what they are going to start and how to implement these strategies in the future.
Digital Marketing: 6 Month Industrial Training in Patiala
Today's era is of digitization. More and more people are forwarding to the digital world. Thus, its importance is getting bounce day by day. Today no-one can ignore its existence and cannot escape from its influence. Though after being trained in the Digital Marketing sector trainees got the experience to survive in the digital world. Click here – to view the Course Details for Digital Marketing Course in Patiala.
PHP / Word Press Development: 6 Month Industrial Training in Patiala
PHP/Word Press Development is a very massively useful skill. It is used to give your website structure and is employed by all websites. Although, WordPress is an open-source fastest growing Content Management System (CMS) in the world. It has a lot of features like easy theming, better performance, easy plugin development, etc. you can make a career in WordPress Development as it is in demand. Click here – to view the course details for WordPress Development Course in Patiala.
App Development (Android and IOS): 6 Month Industrial Training in Patiala
This is highly in demand course for software and mobile application development.  Most students go for this course as it has vast career options and high scope in the field of programming and development. This course will help you to be skilful and a top-class application developer both in android and software development. Click here to –  view the course details for Android APP Development Course in Patiala and IOS APP Development Course in Patiala.
Web Designing: 6 Month Industrial Training in Patiala
Easy web plans are the best web designing institute in Patiala. Additionally, This institute provides the best HTML training in Patiala which is the major back-strength of web designing work. This course includes various short term courses like Adobe Photoshop, Responsive Web Designing Course along with Adobe Flash. Moreover, These courses take the students with a depth study of web designing and provide great career opportunities after the course. Click here to –  view the course details for Web Designing Course in Patiala.
Sequence Query Language (My SQL)
My SQL is generally expanding as the Sequence Query Language. It is a very important language used for making databases.
Easy Web Plans is providing an industrial training course in My SQL also having the best teaching staff all over Patiala. It is high in ranking and in-demand language for creating the databases. So, the students have the immense chances to shine in the competition throughout the world after possessing this course.
Hardware and Networking:
Under these courses, we have the following options at Easy Web Plans.
Cisco Certified Network Associate (CCNA):
Industrial Training Institute in Patiala is providing root knowledge of everything in Cisco certified security associate. Study materials will be provided by Easy Web Plans which will definitely help them in their campus placements.
Cisco Certified Network Professional (CCNP):
We also have a 6 Months industrial training in Cisco certified network professional program. We focus more on practical work than theory.
Cisco Certified Security Professional (CCSP):
Easy Web Plans also have an industrial training in Cisco certified security Professional course with one of the best teaching experts all over India.
Cisco Certified Internetwork Expert (CCIE):
This course covers topics like routing, switching, and security. Easy Web Plans provides this course with experienced industrial trainers who train our students for their bright future.
Why We are the Best Institute Compare to Others?
Apart from these course options, Easy Web Plans also serves its students with more alternatives as their demand and requirement. They always feel themselves under the safe guardians, on the other hand, we appreciate their training work with the certification. This certification is approved with the ISO standards. These cumulative factors make Easy Web Plans more trustable company carry on 6 Month industrial training in Patiala.

We have exclusively designed 6 months training programs that are structured to satisfy the needs of the students. There are a lot of opinions available for different technologies. Now if we compare all the industrial training institute in Patiala on the basis of
Relevancy
Durability
Regular growth
Customer satisfaction level
High ranking over the web etc.
Then Easy Web Plans is the best in this regard.
We at Easy Web Plans, are the team of different area experts as well as technically trained executives. Today there is a huge race between the companies in the digital virtual sector. Everything is moving on quickly and rapidly in today's technical era. That's why we focus on the basic requirements of the trainees and students.
The most important thing that we always consider in mind is that we work as accordance as changing field prerequisites.
Our Experience
Considering our experience, we are in the business since 2008 and have trained 3000+ students till now. Easy Web Plans deeply understand the importance of such training from the career point of view. Thus, the student's hunt for the best 6 Month Industrial Training in Patiala surely ends here. They grab a positive approach here and always get practical knowledge with 100% satisfaction.
Easy Web Plans have a team of skilled industrial trainers and experts, creative designers, content creators, coders, and marketing professionals. Hence, feel free to contact Easy Web Plans for a personalized guide on a various industrial training program.
FAQs –
Does Easy Web Plans offer placement assistance after course completion?
Easy Web Plans is the legend in offering placements to the students. We have a 100% placement record for the students. However, we also conduct regular skill development sessions to face challenging situations by the students with ease.
What are the Payment options?
We accept all modes of payment. Cash, UPI, Phone Pe, Google Pe, PayTm, net banking etc.
What to do If I miss a few days?
Don't worry, we assure you that no one misses any day session. We offer backup classes as per your convenience.
Any Group discounts for our team?
Yes, Easy Web Plans is providing group discounts to our 6 Month Industrial Training in Patiala program. To get more details, you can contact us on +91 9216041313. We offer the discount as per the terms and conditions.
What are the benefits of 6 Month Industrial Training in Patiala?
The benefit of 6 Month Industrial Training in Patiala is to get all the knowledge required to work in organizations as well as companies for a specific time frame from certified top industry experts.
How can I register for the program?
To Register, you can contact us or visit us on the address we mentioned below –
Address: #44 B.N. KHALSA SCHOOL COMPLEX,
SIRHIND ROAD PATIALA,
PUNJAB, INDIA
TEL: +91-92160-41313
          +91-93364-41313
EMAIL: info@easywebplans.com