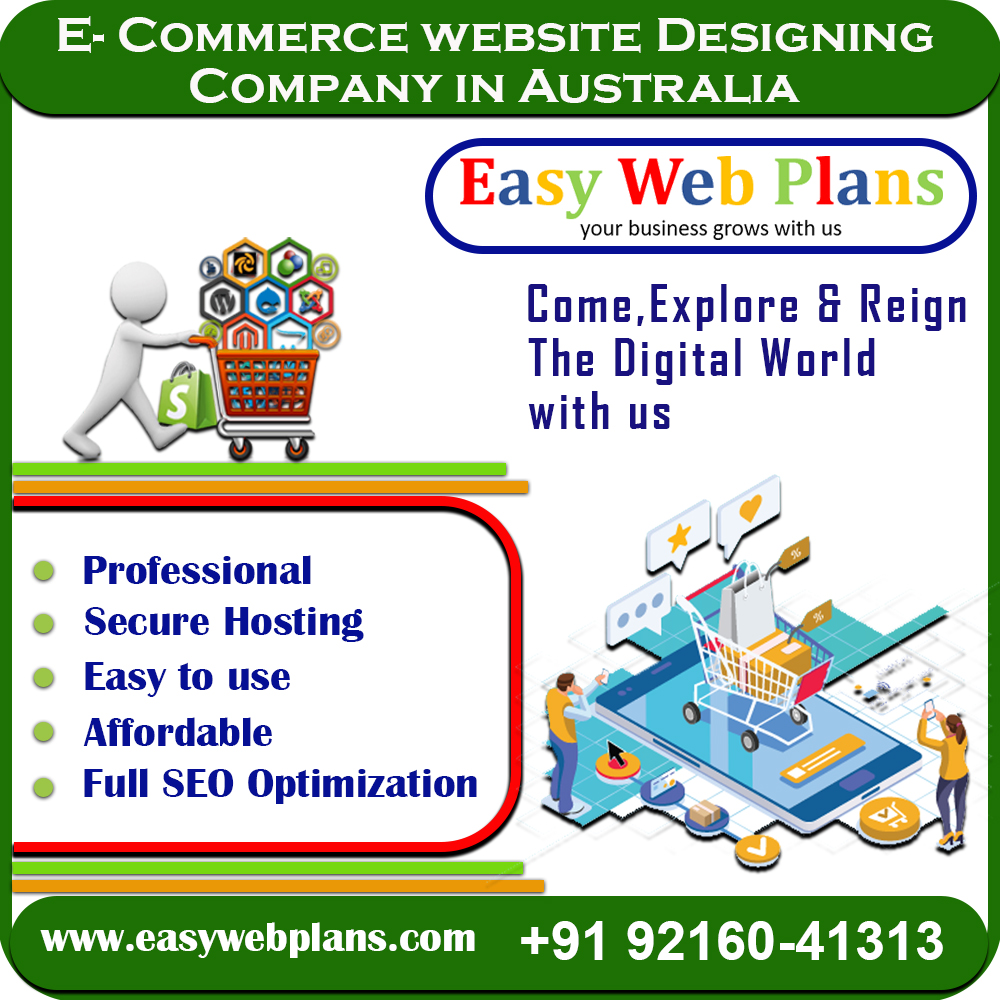 Ecommerce Website Design Melbourne – Looking for the best eCommerce Website Design Melbourne? There are hundreds of options for eCommerce Development Company, however, there are many factors that contribute to actually being the best. Easy Web Plans is the name that promises the best eCommerce Website Development regardless of the industry you are venturing into.
There are a lot of small-midsized companies looking to sell products online. As the biggest convenience of an online store to that of a brick and mortar store is that the former never closes.
So, regardless of you wish to start an eCommerce Website or plan to revamp the existing eCommerce site, you will need the top eCommerce Website Development Melbourne. The team will not just provide the finest and latest technological edge to the web design but also provide the services at the most affordable cost.
Why Easy Web Plans is your best bet as an Ecommerce Website Design Melbourne?
You might have heard of plenty of names for Ecommerce Website Design Melbourne. However, Easy Web Plans has been here since 2008. With more than 8000+ successful projects, the team knows how to brand a business. Here are the top five reasons that will make you looking for no one beyond Easy Web Plans when you need to create E-Commerce Website Melbourne –
Can develop a highly interactive and search engine friendly business website
Offers innovative web designing and development for E-Commerce Website keeping in mind all the demands and prerequisite of the clients
Has complete experience in developing a seamless, rapid and proficient online business along with responsive sites
Ideal for small to medium range projects offering bespoke requirements and eventually higher productivity and ROI
The need of the customer is the primary goal
The brain behind this Website Designing services is Mr Amrinder Singh. He is an exceptionally brilliant digital marketer. He is doing this business for more than 12 years now and helped thousands to flourish in digital marketing. Easy Web Plans has made its mark in eCommerce Website Development and designing with its professional team.
 What is E-Commerce Website?
The online trade and sales have seen a huge rising than at any time in the past. Given the time and scope, any computer geek would like to start and develop their own website. An E-commerce website is a platform where you can create your own online business store. If you are intimidated about the complicated coding and likewise, the experts of Ecommerce Website in Australia will help you get it done!
So, when you're ready to start selling online, the first thing you need is an eCommerce Website Design that portrays your professionalism. Also, the website should be developed such that provides seamless user experience and helps in building customer relationships. The moot point of working with the best Ecommerce Website Design Melbourne is to help you promote sales and Easy Web Plans can help you achieve those goals.
Helping every sort of eCommerce Website Development
When you work with Easy Web Plans, they will tell you how just the good looks aren't everything for a proper website. Functionality is one of the major roles which a professional eCommerce Web designer can create. One of the vital features is a user-friendly interface with clear navigation. Lastly, the experts of Website Designing services Melbourne will help you understand that your eCommerce Web design also needs to appeal to the search engines and not just the visitors! So it is necessary to have a pro who can evaluate the website content alongside the designing.
The professionals of Ecommerce Development Company Melbourne can simplify the process. The experts of Easy Web Plans understand the requirements of every eCommerce website design and goes beyond making a cookie-cutter approach.
The basic steps of the Ecommerce Development Services include but not limited to –
Using Ecommerce Website Templates
This is arguably the simplest step. The designers will share their first draft of the design and depending on the choice; the templates can be easily changed and updated. It is certainly not always the pre-formatted styles that matter but can be customized according to business needs. The teammates of the top eCommerce Development Company Melbourne will create the page layout exactly how you wish your website to look like – with all the right content and images.
Proper Product Descriptions and Showcase
The eCommerce Website Design Melbourne understand your basic purpose which is to sell products. So, while displaying the items, it is vital to post high-quality images for better virtual user experience. Misinformation is the worst thing you will want for your customers. The experts can devise ways to provide the right information about the type, colour, size, and other related data.
As this is one of the incredibly essential parts of your website, the only pro from Easy Web Plans can design a shopping cart that is both aesthetically pleasing as well as functional. This also needs to include an easy checkout procedure for both the regular customers as well as the guests. A single-page process for checkout is the best option and must keep all the information secured and confidential.
Last but not the least, this is vital to gain the trust of the customers. They can reach any executive should there are any complications in the order process or need any after-sales help.
Advantages of working with eCommerce Website Design Melbourne
Create a custom-designed website that can maximize conversion rates and eventually ROI
Help properly manage the SEO & Google Adwords
Proper Social media integration for better user engagement
Integrate multiple payment gateways like PayPal, ccavenue payumoney
User-friendly admin panel for a better and seamless control
Latest solutions that fit every budget
Not just being the best E-commerce Development Services Melbourne, Easy Web Plans has a global reach with clients in Canada, UK, Australia & United States. Another point that is worth mentioning is the attention that they give towards 100% client satisfaction with high-quality and punctual work. Consequently, they have acquired the coveted reputation amongst the other competitors.