Web Designing Course in Patiala-  EasyWebPlans is the leading Web Designing course institute in Patiala that provides Advanced Job oriented Web Designing Course. Our course is based on 100% practical web designing training with live projects.
Designing is very vast field and our vision is to boost up the creativeness in the students and help them to sharpen their imagination and creativity.This web designing course will cover the topics like HTML, HTML 5 and CSS.
For more information feel free to contact us on:-
+91 92160-41313, +91 93331-41313
We care for your money so we provide you free demo class before opting full course.
To book free demo class Click here:

Scope of the Course:
Web designing is an indispensable part of today's IT industry. Whenever  we choose any career path, all of us have some questions in minds.So is the case of  Web designing course.
These days, Web designers are in great demand. After completing the course one could work as a Freelancer, start their own business or work for a web designing company. There are thousands of companies that consistently hiring web developer for front end and back end projects. As a fresher web designer you can easily earn 10,000/- to 20,000/- per month.
Why Choose us?
Highly experienced staff :  We believe in quality study. Our staff have immense experience in this field, hence provide best education
Customized Syllabus : We don't stuck on the in built syllabus. We encourage our student to bring their own project so to increase the creativeness among them.
Live Projects:  We gives our student some live project after completion of the course.
Flexible timing:  Anyone could opt our course as we have special timing for businessmen.
Latest trends:   We keep changing our syllabus according to latest trends.
Back Up Classes:  If you miss some classes, Don't worry we have solution for this. you can go for back up classes.
Best Study Material: Our study material is prepared by industry experts.
Web Designing Course in Patiala, Punjab
 Name of the course:     Web Designing Course
 Duration of the course:   Minimum 2 Months & Maximum Unlimited Timing:  We are always available for support
 Timing for the course:  To know the timing please click here
 Book Free Demo Class:  Click to Book a Free Demo Class
Call Now For Training Enquiry: +91 92160-41313, +91 93331-41313
Web Designing Course Syllabus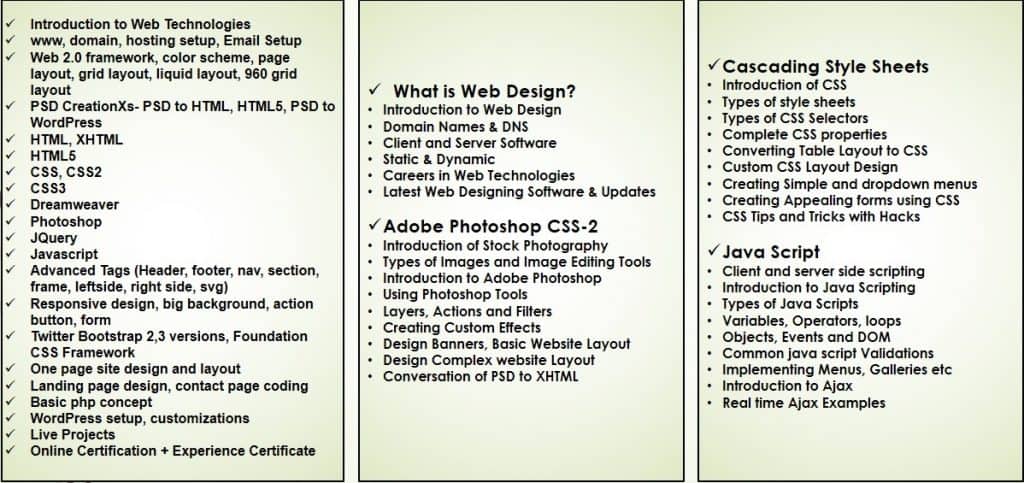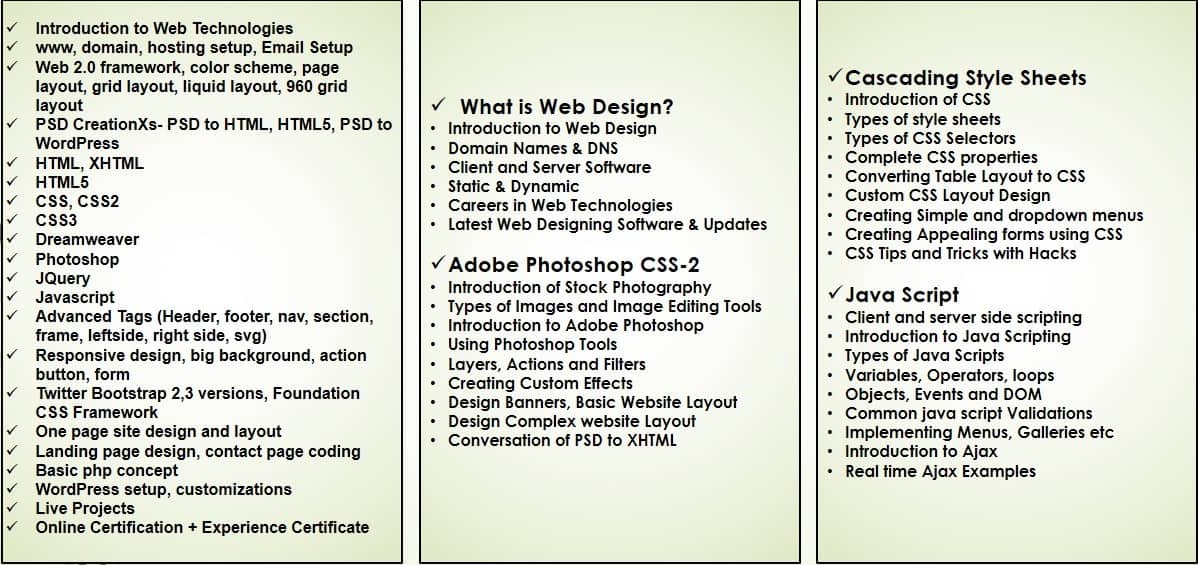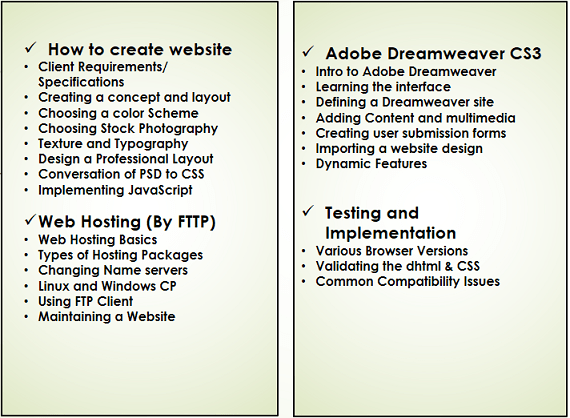 Major Topics / Modules are:
Introduction to Web Technologies
www, domain, hosting setup, Email Setup
Web 2.0 framework, color scheme, page layout, grid layout, liquid layout, 960 grid layout
PSD Creations- PSD to HTML, HTML5, PSD to WordPress
HTML, XHTML
HTML5
CSS, CSS2
CSS3
Dreamweaver
Photoshop
JQuery
Javascript
Advanced Tages (Header, footer, nav, section, frame, leftside, right side, svg)
Responsive design, big background, action button, form
Twitter Bootstrap 2,3 versions, Foundation CSS Framework
One page site design and layout
Landing page design, contact page coding
Basic php concept
WordPress setup, customizations
Live Projects
Online Certification + Experience Certificate
Jobs
What is Web Design?
Introduction to Web Design
Domain Names & DNS
Client and Server Software
Static & Dynamic
Careers in Web Technologies
Latest Web Designing Software & Updates
Adobe Photoshop CSS-2
Introduction of Stock Photography
Types of Images and Image Editing Tools
Introduction to Adobe Photoshop
Using Photoshop Tools
Layers, Actions and Filters
Creating Custom Effects
Design Banners, Basic Website Layout
Design Complex website Layout
Conversation of PSD to XHTML
HTML & DHTML
Structure of HTML
Basic HTML Tags
Advanced HTML Tags
Difference between HTML & DHTML
DHTML Basic Tags
Introduction to Doc Types
Creating Simple HTML Pages
Cascading Style Sheets
Introduction of CSS
Types of style sheets
Types of CSS Selectors
Complete CSS properties
Converting Table Layout to CSS
Custom CSS Layout Design
Creating Simple and dropdown menus
Creating Appealing forms using CSS
CSS Tips and Tricks with Hacks
How to create website
Client Requirements/ Specifications
Creating a concept and layout
Choosing a color Scheme
Choosing Stock Photography
Texture and Typography
Design a Professional Layout
Conversation of PSD to CSS
Implementing JavaScript
Web Hosting (By FTTP)
Web Hosting Basics
Types of Hosting Packages
Changing Name servers
Linux and Windows CP
Using FTP Client
Maintaining a Website
Adobe Dreamweaver CS3
Intro to Adobe Dreamweaver
Learning the interface
Defining a Dreamweaver site
Adding Content and multimedia
Creating user submission forms
Importing a website design
Dynamic Features
Testing and Implementation
Various Browser Versions
Validating the dhtml & CSS
Common Compatibility Issues