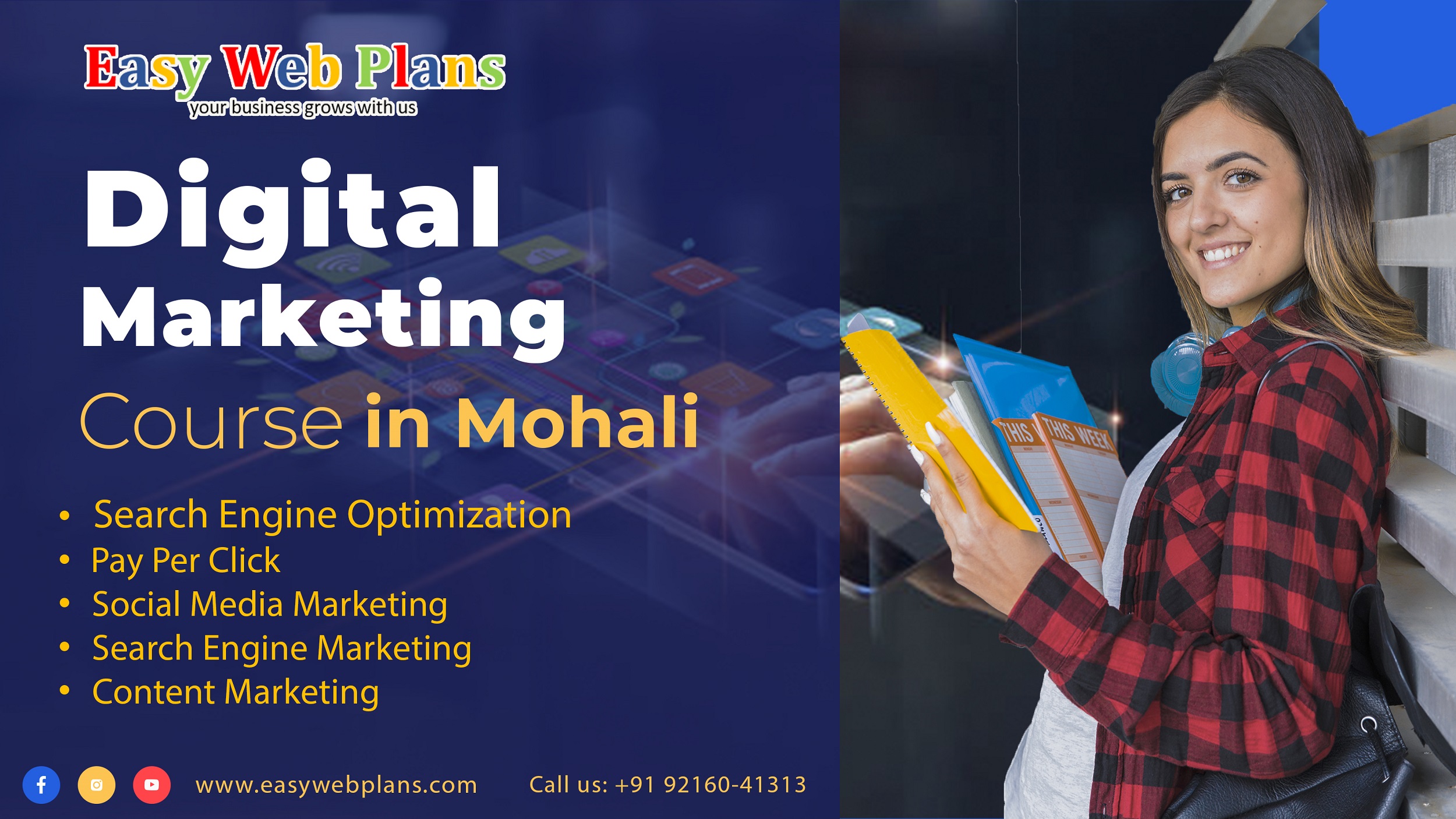 Digital Marketing Course in Mohali – Easy Web Plans has more than 13 years of digital marketing experience and today it is the best digital marketing company in Mohali. The MD of the company, Amrinder Singh is the best digital marketer in India. He has four offices in different cities; Mohali, Chandigarh, Patiala, and Melbourne. Easy web plans provide the best digital marketing course in Mohali. This company has a team of more than 60 employees working together as a family.
Apart from providing the top digital marketing training in Mohali, there are some other services also that help this company lead the market of IT industry.
Web designing and development: HTML, CSS, SCSS, JavaScript, .NET, Laravel, PHP, etc
Mobile app development: native, react native, flutter as well as hybrid
Digital marketing
Social media management
MLM software development
Educational courses for technical topics like Java, C, C++, Python, PHP, .NET, android app development, iOS app development, etc.
After completing hundreds of projects in these services, they have hundreds of happy clients. Each of these clients will contact them for any IT-related project that they have in the future.
Easy Web Plans is the top digital marketing institute in Mohali because of its approach to designing the best digital marketing classes in Mohali.
You will get a competitive environment to study with the students who have decided to make digital marketing their profession.
You will have the flexibility to choose the batch depending on the time that suits you the most.
Experts with years of professional experience will be training you.
Without any extra cost, you will be getting a domain, hosting, and a website designed according to your requirement for your personal use.
Hi-tech infrastructure to learn and practice.
Personalized attention to ensure an effective learning experience.
Best Digital Marketing Course in Mohali
If you are planning to choose digital marketing as your career, you are going in the right direction. Not just because the digital marketing course in Mohali by Easy Web Plans makes it easier to learn, moreover there are some more factors that support this statement.
You will agree with the fact that smartphone users are increasing every single day. You will also agree to the fact that with the passage of time, we are getting improved internet connection that makes internet usage really pleasing. It clearly means that internet users are increasing and people are getting more involved in the internet. Online shopping, browsing the internet for online or offline services as well as online educational courses are widely increasing.
In this changing trend if someone's business is not online, then he is losing customers like leaving money on the table. And most business owners are aware of this fact. People are just finding ways to get their business online in the best way possible. Hence, people like us come into the picture.
Every business that is online today and is expecting sales, needs a digital marketing specialist. So, you can imagine how much you need these top digital marketing classes in Mohali. Easy Web Plans will not only prepare you to help any business come online and make sales but will also make you pro enough to compete against many other experienced people or even companies. This institute has trained many students that are working as professionals in the same organization and are helping it to lead the market even after so much competition.
You can book a free demo class. Through this class, you'll know more about the scope of digital marketing and what you will learn in their modules.
Best digital marketing training in Mohali
Easy Web Plans gives the best digital marketing training in Mohali. This is because of its extraordinary methods of training the students and making them capable of not just jobs, but to work on their own; independently as a freelancer or as a company.
In order to ensure that each student gets a quality education and valuable experience, this digital marketing course in Mohali is designed in an extraordinary manner.
Multiple experts to cover the syllabus
Based on the level of expertise, each expert is assigned the topics in which he is specialized at. The vast syllabus of the course that has various topics is designed in a planned way with a proper understanding of which topic should be covered first and which topic is followed by the other. These experts are major reason to make this course the best digital marketing course in Mohali.
Professional training
Once your syllabus is completed, you will be given a written test based on that syllabus. After you clear the test, you will be given real projects and will work directly for the client. You will have sufficient support from your mentor so that you can bring good results for the client. This will not only give you great exposure but will also train you to be capable of working on any digital marketing project on your own.
Guaranteed placement
Once you complete your training, you will get a chance to sit in the interview. This will be the single interview that you have to crack and you will have an appointment letter for your first digital marketing job with a good salary package. Till date, Easy Web Plans has offered 100% placement to each student and have achieved a 99% hiring rate.
Best digital marketing institute in Mohali (Digital Marketing Course in Mohali)
Easy Web Plans is the best digital marketing institute in Mohali. The reason is that it provides the best digital marketing course in Mohali. Since digital marketing is not limited to any single topic. In order to make you a pro in digital marketing, this institute covers all the topics in a detailed manner. If you run your own business, after covering all these topics, you will be capable of doing marketing for your own without someone's help, and your business will have consistent growth in business revenue.
SEO
This is a marketing strategy that makes your website capable of getting a higher rank in the search engine for the user that wants to know something related to your service or product. We need to take care of a lot of things to make a website capable to rank higher in the search results. The best digital marketing course in Mohali with Easy Web Plans will guide you about all the necessary points. You will learn to know various methods through which you can make your website capable to rank higher in a very less period of time. Since Google keeps on updating its algorithm for the search engine, you will get knowledge about the latest updates.
Email marketing
Email Marketing is one of the most cost-effective methods of marketing, or you can say that this method doesn't cost any direct cost for marketing. In this method, you will make a list of the potential customers and gather their email addresses. Create an email that has the content that is capable to share about any latest offer, any promotion, or anything that you want your customer to know about.
With a single click, all the people on the list will receive your email and get a notification about the same. If they find the email suitable to their interest, they will go to the link of your website that you have shared in the email.
SEM
There are times when someone wants immediate result from marketing and are willing to have sales overnight. In that case, SEM is suitable. In this method, we use paid method to get the website listed on the first page of the search engine. Each time a person clicks on the weblink, an amount is charged. However, the person who clicks on the web link is targeted on the basis of his interest. The top digital marketing course in Mohali by Easy Web Plans will help you know the best methods to get the best output from your hard-earned money.
Social media management
During your digital marketing course in Mohali with Easy Web Plans, you will get to learn a lot of things about digital marketing. The social media experts will guide you through various methods to increase brand awareness and revenue.
Benefits of Social media
Social media is an economic way to increase sales.
Through social media, you can target the audience more specifically by shortlisting them through their age, location, interest, etc.
You can create eye-catching posts to showcase your products, any offers, or even testimonials from various clients.
Customers are free to react to any post and even comment on any of them. Customers really like it when they find an easy method to share their opinion with any big brand.
You have multiple social media platforms to work on, where you can choose different methods of marketing and can target different kinds of audiences.
You get a chance to understand customer better and can work on customer loyalty.
The posts that you create are likely to be shared by the people who find them interesting. These shares bring traffic to the website and this increase in traffic helps in getting a higher rank in the search results.
Digital marketing training in Mohali by Easy Web Plans will teach you all the insights of social media and guide you right ways to get maximum results from social media.
Using social media channels
Out of numerous social media platforms, these are the ones that are most widely used:
Facebook: Out of all social media channels, this is most widely used throughout the world.
Twitter: This platform didn't get too many new users from the past few months, however, its existing users still like it.
Instagram: This is a great platform to share media like images and videos.
LinkedIn: First choice of professionals.
YouTube: World's second most widely used search engine that is a library of videos.
Pinterest: It allows to use images in such a way that you can use those images and description related to them in marketing.
Snapchat: People of a particular age group are found here in huge numbers.
Tik Tok: Video oriented social medial channel
Easy Web Plans are the digital marketing institute in Mohali, that will guide you about the insights of each platform thoroughly. And you will know the best ways to
Attract organic traffic to your website
Manage social media official pages for any kind of brand
Track and optimize the data of paid ads, so that you can work on them and get better results
Create, manage and analyze posts, reels, and stories
Optimize posts and profiles
Work on data tracking tools to measure analytics, identify the target audience and generate the best traffic
Social media expert in Mohali
After you complete this course, you will be a social media expert in Mohali. You will have both knowledge and experience to work on various channels. Your results will be competitive with any professional freelancer or company working for your competitor. Some of the various methods that can help you get better results are…
Understand the audience
The more you analyze the behavior of the customers, the more you will understand their tastes and expectations. Accordingly, you can work on your strategy and as a result will get better customer engagement, customer loyalty as well as more sales for your business. This will also help you understand more about your brand and you can make changes to any product or service accordingly.
Interact with customers
Social media gives freedom to customers to be capable of sharing their opinion directly by engaging with the posts uploaded by any brand. This gives you a chance to interact with your customer and resolve their issues or appreciate their opinions. Social media is a great way to manage your online reputation.
Combination of social media channels
Different types of people use different types of social media channels in different ways. For instance, a LinkedIn user is less likely to share his lifestyle or personal life experiences on social media. However, a YouTube or Snapchat user is less likely to find jobs as well as recruiters on his social media platform.
You should have a good understanding of what methods are more suitable for which type of platform. And which platforms are more useful for which type of product or service.
Book your demo class today with this best digital marketing institute in Mohali and understand more about what you will learn in your course and how this course and/or digital marketing is going to help you with your career.
Related Courses we are providing