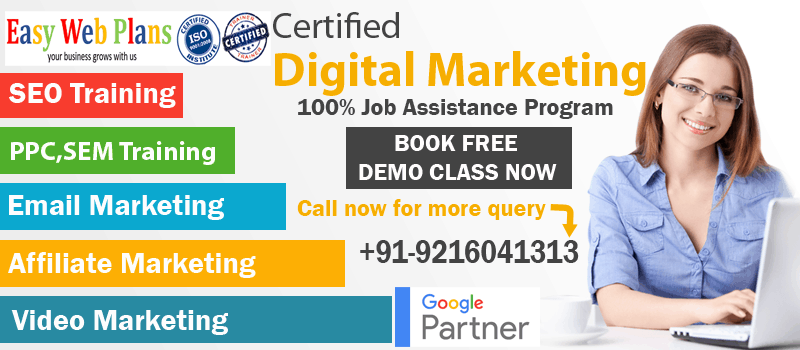 Digital Marketing Course in Patiala-Digital Marketing refers to the promotion as well as advertising of products and services of various brands using various Digital mediums and channels. Simply, it is basically supporting the company to analyze their marketing campaigns in order to strategize better and achieve a more effective as well as efficient working environment. Hence, Beyond any doubt, Online marketing is one of the fastest-growing sectors nowadays. There are over $130 Billion spent in online advertising globally, which results in the total number of internet users cross over 3 million conveniently. Furthermore, it is expected that more than 15 lakh jobs to be created by the end of 2019 in the field of Digital marketing. Not just a fresher, even working professionals, students or an entrepreneur can learn Digital Marketing, which will assist them to grow their business in an efficient way.
Lastly, to build yourself into a complete Digital marketer specialist, it involves various disciplines it involves such as SEO (Search Engine Optimization), SMM (Social Media Marketing), SEM (Search Engine Marketing), E-mail marketing and content marketing that will help you to earn effortlessly.
Get 100% Practical Training in Digital Marketing Course:
Call: +91 92160-41313, 85680- 80005
Easy Web Plans-Best Digital Marketing Company and Institute for Digital Marketing Course in Patiala
Today, Digital Marketing is a need for everyone for any business. It is a domain where everyone posts their products as well as services on different platforms like mobile phones, laptops, computers, tabs and other digital devices using the internet.
Easy Web Plans is known as the best Digital marketing company in Patiala was established in the year 2000 offering a Digital Marketing Course in Patiala for students who want to use this Digital era as their building career. However, we have the vision to bring awareness in the nation about technologies and how can we use this as our advantage to grow our business. Easy Web Plans provides everyone with the best tools, study materials as well as the best faculty of Digital Marketing. We are considering as the leading Digital Marketing Institute in Punjab. Because we never compromise to provide the best services to our students. However, the whole course is prepared in such a way that the students can easily capture and which also helps them to learn easily.
Scope of Digital Marketing in India and Abroad?
In recent times, the most promising career opportunity in Digital Marketing. Statistics show that the Digital Marketing industry is booming at a very massive speed worldwide. However, these days most of the students in India are planning to study abroad or settle abroad. For them, it is a national alarm whom all are looking for an inviting career abroad. Naukri.com India's largest job portal offering 13000 Digital Marketing Professionals jobs in India. The USA itself generated 30,000 Digital Marketing jobs for professionals. It is a plus point for the students seeking a career in abroad. However, 90% of top employees consider certification as a key hiring criterion. Therefore, it is ideal to join the Digital Marketing Institute to get certified and grasp the marketing techniques of experts.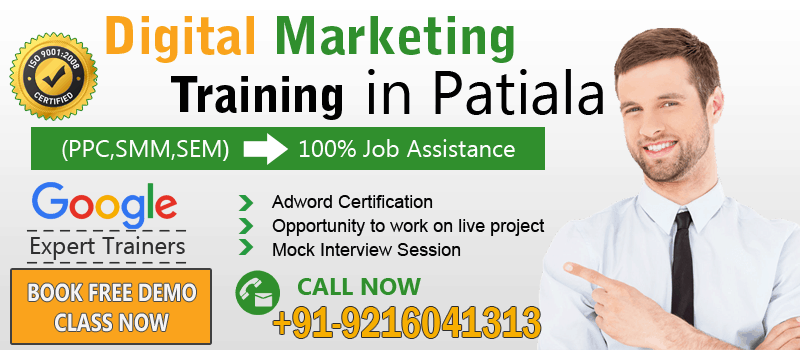 What makes Easy Web Plans Best?
Easy Web Plans is the best Digital Marketing Training Institute in Patiala which beholds the purpose of graduating the best online marketers. Here at Easy Web Plans, our course has been structured in a pattern that is easy to adhere to. In addition, we put our best foot forward to make our trainees the best version of why they are here for. The main focus of Easy Web Plans is to serve the best to the students in terms of education and faculty.
Thus, Let's Take a look at the major features of Easy Web Plans which makes it India's Prime Digital Marketing Institute-
Free Demo Class
Qualified as well as Experienced Trainers
Internship Opportunities with Easy Web Plans (Digital Marketing Institute)
Live Projects and Case Studies
Back up Class for Every Class, you missed
100% Placement Assistance
Real-Time Company assignments for students
Get 100% Practical Training in Digital Marketing Course:
Call: +91 92160-41313, 85680- 80005
Training Salient Features-
45 Days of Practical Learning
Long-Term Support from Trainers
100+ Hours Hands-on Practical Projects
Free Digital Marketing Tools providing worth Rs 70,000
Certifications from Best Industries
Mock Interview Preparation
Why Should you Consider our Digital Marketing Course in Patiala?
While others are motivated by heavy pockets, Easy Web Plans always choose excellence and our records speak the same glorious story. Easy Web Plans is only Digital Marketing Institute that provides Digital Marketing Education along with video, graphics, designing and web development at half the price of its competitors. However, Our Company Easy Web Plans focus is not taking a large amount of money from your pockets. We only charge a suitable amount and we give the best value and services to our students from your money. In addition, we have a great reputation for providing the quality Digital Marketing Course in Patiala. We value your money and we offer professional training programs such as SEO, SMO, SMM, Affiliate Marketing, WordPress Blogging, E-mail marketing, Content marketing, Google Ad-sense and many more related to Digital Marketing Course.
Our Institute starts with basics and explains their topics clearly so that students do not have any queries following in the topic. But if any student has any doubts about any topic you can freely come to us and clear your doubts. Because our motive is not taking the money and leave them, they should be 100% clear on what we have taught them. Therefore, Here at Easy Web Plans, we produce the best Digital Marketers in Patiala or all over Punjab.
About Patiala City-
Patiala city was established in 1763 by Baba Ala Singh. He laid the foundation of the Patiala fort known as Quila Mubarak, there which the present Patiala is built. Currently, we provide Training in Patiala. However, our students come from Patiala and near cities like Nabha, Rajpura, Sangrur, etc.
Hence, If you are interested in learning more about our Digital Marketing Course in Patiala? Contact us and a member of our staff will be happy to answer all questions related to the program.
Free: Book Your 3 Day Demo Class